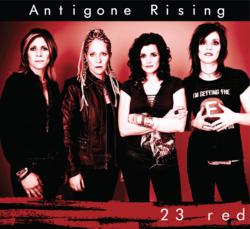 Once again, Antigone Rising has proved beyond a shadow of a doubt that women really can do it all — write meaningful lyrics, successfully master their instruments, and sing in such a way that makes listeners hang on their every note.
Newark, NJ (PRWEB) August 15, 2012
Antigone Rising, the all female Country/Rock band, has a treat in store for the season ticket holders of the WNBA's basketball's New York Liberty. The band, recently returning from representing America in the Middle East as Arts Envoys for the U.S.State Department, will perform at a private post-game concert at The Prudential Center in Newark,NJ after The Liberty's game with The Indiana fever immediately following the 7 pm game on Thursday, August 30, 2012. This exclusive Private Concert Series, hosted by The Liberty, is a new and special way for the team to thank their valued fans. Antigone Rising is thrilled to be a part of this exciting team venture. Game time is 7 pm.
Antigone Rising exploded onto the spotlight in 2005 becoming the first band on Starbuck's Hear Music (Lava Records) with their best selling debut LP. A lineup change brought Nini Camps to the band, whose voice blends perfectly with the signature style soaring three part harmonies of founding sisters Kristen Henderson (bass /vocals), Cathy Henderson (lead guitar /vocals) and Dena Tauriello (drums), that Antigone Rising has become known and loved for. The band's latest CD, "23 Red" continues to turn heads as their themes abound with songs that speak to the full range of emotions and life. The band has opened for such acts as The Rolling Stones, Aerosmith, Joan Jett and The Blackhearts, Rob Thomas, and The Bangles, and are favorites in Festivals around the country.
Antigone Rising was initially scheduled to perform on opening day but due to the NJ Devils entrance into the NHL playoffs , the Devils took over the Prudential Center pushing the performance to August 30. Keep an eye on @nyliberty and @antigonerising for promotions and giveaways.