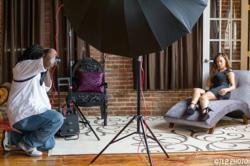 Photographers will finally have the chance to experience Multiblitz equipment.
Baltimore, MD (PRWEB) August 15, 2012
Multiblitz USA, LLC - the US headquarters of premium German studio lighting manufacturer, Multiblitz – announces today that the company is organizing studio lighting demo events to introduce Multiblitz equipment to photographers in the Baltimore/Washington DC area and the New York/New Jersey area. The company continues Multiblitz's 63 years lasting tradition of delivering German engineered premium studio lighting with a mix of experience, innovation, enthusiasm, and youth.
"We want to give photographers the chance to experience and test our products." said Veit Wulms, president of Multiblitz USA. "We are well aware that it is a tough decision to commit to a new studio lighting manufacturer if you don't have the chance to try it out first."
After a few demo events in the Baltimore/DC area, the first demo day/open house outside of Maryland will be held at Multiblitz's service partner in Fairfield, NJ on Saturday, August 25, 2012. Photographers will be able to shoot with Multiblitz studio lighting equipment in a real-life situation. Multiblitz provides the essentials: studio lighting equipment, location, model/MUA, and technical support. In addition, Multiblitz USA will announce special sales promotions for the event attendees on Multiblitz USA's website.
Multiblitz Demo Day Events 2012

August 25, 2012: Fairfield, NJ
October 7, 2012: Baltimore, MD
November 10, 2012: Fairfield, NJ
For the NJ events, Kayla Love will be the model. Visit http://multiblitzusa.com/events for more information and to register for the events.
About Multiblitz
Multiblitz is one of the worlds leading manufacturers of state-of-the-art studio flash lighting for over 60 years. In 1976, Multiblitz forever changed the studio lighting world when it introduced the industry's first compact studio flash, the now legendary MINISTUDIO 202. Today, leading professionals in over 100 countries use Multiblitz studio flashes. As the most experienced manufacturer of professional lighting equipment worldwide, Multiblitz takes pride in the fact that it is the only European brand that is still producing award-winning, completely European products, relying solely on German engineering and manufacturing. Multiblitz: Premium quality and reliability – Made in Germany
For more information about Multiblitz and Multiblitz USA visit http://www.multiblitz.com & http://www.multiblitzusa.com
###