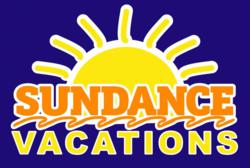 Wilkes-Barre, PA (PRWEB) August 14, 2012
Sundance Vacations, a leading provider of discount travel accommodations, is delighted to announce its affiliation with the Lancaster Barnstormers professional baseball team based in Lancaster, Pennsylvania.
Sundance Vacations is offering its exciting Dream Giveaway promotion during select home games to all Barnstormers fans and visitors to Clipper Magazine Stadium. The National Sweepstakes gives one lucky grand prize winner their choice of an automobile valued at up to $70,000 or $50,000 in cash.
Barnstormers fans also have the chance to win other prizes including a fantasy trip to Hawaii, Orlando or Pebble Beach with airfare, hotel accommodations and spending cash; a high-definition LCD television; a prepaid credit-card worth $1,000; a winner's choice Sports/Music package that includes four tickets worth up to $1,000 to a sporting or music event, or one of three different Sundance Vacations packages worth $15,000 each. Complete contest rules and entry materials will be available on site.
"Sundance Vacations is delighted to be involved with the Lancaster Barnstormers during their 2012 season, said John Dowd, President of Sundance Vacations. "We're offering Barnstormers fans the opportunity to enter our national sweepstakes, and we hope that Sundance Vacations contributes to an enjoyable game day experience for them."
About the Lancaster Barnstormers:
The Lancaster Barnstormers is an American professional baseball team based in Lancaster, Pennsylvania. They are a member of the Freedom Division of the Atlantic League of Professional Baseball. From the 2005 season to the present, the Barnstormers have played their home games at Clipper Magazine Stadium in the city's Northwest Corridor. For more information, visit http://www.lancasterbarnstormers.com.
About Sundance Vacations:
Sundance Vacations is a national travel company that specializes in discount vacation accommodations at destination golf, beach, ski and mountain resorts throughout North America and the Caribbean. The company is headquartered in Wilkes-Barre, Pennsylvania and maintains offices in four other locations including; King of Prussia, PA; Harrisburg, PA; Downers Grove, IL and Rockaway, NJ. Sundance Vacations has been named one of the Best Places to Work by Best Companies Group four times in Pennsylvania, three times in Illinois and once in New Jersey. The company has been honored three times as one of the Fastest-Growing Travel Companies in Pennsylvania by Inc. 500/5000. Please visit Sundance Vacations at http://www.sundancevacations.com.