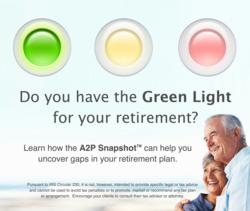 Barnett Financial & Tax has all the tools necessary to make a clients retirement picture crystal clear.
Grand Blanc, Michigan (PRWEB) August 16, 2012
Rick Barnett, founder and CEO of Barnett Financial & Tax in Grand Blanc, Michigan knows that his client base, which is made up largely of folks at or near retirement age, must have technology on its side in order to keep up in today's fast paced financial world.
"We are now in a global economy," says Barnett "as such, news travels fast. An event in Europe can impact the U.S. economy within hours and this is just a different world than what my clients grew up in." That's why his office is now utilizing state of the art planning tools to assist its clients in preparing for retirement.
Barnett Financial & Tax took a major step forward when it teamed up with Modern Retirement Professionals Group, a nationwide advisory Group implementing state-of-the-art technology. Barnett recently began utilizing MRPG's patented A2P (accumulation to preservation) Snapshot. The A2P Snapshot is a revolutionary reporting tool designed to locate any gaps in a clients' financial, tax or estate plan. This innovative tool allows retirement preparedness to be precisely measured by simply having the client answer a variety of yes/no/unsure retirement questions. The responses to these questions are logged into intricately calibrated software that analyzes client needs in the areas of Estate, Taxes and Finances while pinpointing any potential planning flaws.
Barnett Financial & Tax took that a step further and is now giving all of its client's access to eMoney. eMoney is a unique Personal Financial Website that keeps people organized, updated and prepared. Clients using eMoney have a secure, up-to-date window into their entire financial world - accessible to them at anytime from anywhere in the world with an internet connection or mobile device.
Technology plays an important role in having well prepared and confident clients. Utilizing these tools and a resourceful website paired with the social media outlets Twitter, Facebook and LinkedIn has allowed Barnett Financial & Tax to enhance the services they offer and to keep clients well informed. Barnett is a firm believer that ongoing changes to Medicare, the Tax Laws, and an ever changing world will always require planners to be technologically advanced. Rick and his team intend to remain on retirement planning's cutting edge.
About Barnett Financial & Tax
Barnett Financial & Tax, Located in Grand Blanc, Michigan provides a team of highly qualified professionals, with backgrounds in Tax, Estate & Elder Law, accounting, and financial planning, who provide complete financial services for their clients. Further information about Barnett Financial & Tax can be found at http://www.BarnettMRPG.com.
About Rick Barnett
Richard A. Barnett is a Financial Planner with Designations as Certified Estate Planning Professional (CEPP), Christian Financial Consultant & Advisor (CFCA) and has a Master of Estate Planning (MEP).
Mr. Barnett has been quoted for the past 20 years in the Flint Journal, the Grand Blanc View and has had appearances as a financial authority on local channels WJRT TV-12, WNEM TV-5 and WEYI TV-25. Rick can be heard weekly as host of the "Barnett Financial Hour" Thursday mornings at 8am eastern time on Supertalk 1570am or streaming live at http://www.supertalk1570.com. Also Mr. Barnett has been asked to speak on various topics of tax, investments, estate planning, etc from General Motors, Delphi, Genesee County, Hurley & Genesys Medical Centers, Michigan Association of Christian Schools as well as dozens of other Corporations, Unions, Churches and Associations.