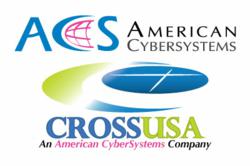 The ACS portfolio of companies is excited about the opportunity to offer such a unique rural outsourcing model that many of our existing customers are interested in rapidly pursuing.
Atlanta (PRWEB) August 14, 2012
Atlanta‐based American CyberSystems, Inc. (ACS), a global information technology services company, announced today the acquisition of CrossUSA, based in Burnsville, Minnesota. The acquisition expands the ACS reach geographically and vertically by adding rural outsourcing solutions and recruiting expertise to the ACS consortium of companies. The sale will provide our newly merged customers with a strengthened outsourcing portfolio and a broadened technology base that will satisfy their customer's most challenging requirements.
Started in 1998, CrossUSA was founded on the premise that high end IT work can be delivered from Rural America. After fourteen plus years of success, CrossUSA continues to provide outsourcing services to a number of Fortune 100 companies. CrossUSA does this by using their workforce located in Rural Development Centers (RDC's) placed in small communities around the United States.
CrossUSA president Kevin Mcloughan firmly believes, "Our business model is unique and is on the forefront of a workforce revolution in the United States providing our customers and employees true workforce stability. CrossUSA offers clients superior service at reduced cost while addressing many of the "quality of life" issues that the American workforce is searching for today." CrossUSA employees enjoy the benefits of exceptional schools, low crime, minimal traffic, low cost of living and a purposeful sense of belonging to a community. Due to the advantages that rural America offers, CrossUSA has an extremely motivated, enthusiastic and hard-working workforce in the support of their clients.
ACS CEO and President Raj Sardana said, "The ACS portfolio of companies is excited about the opportunity to offer such a unique rural outsourcing model that many of our existing customers are interested in rapidly pursuing. The professional project management expertise that CrossUSA brings will be a tremendous asset to our existing and new customers."
As part of the acquisition, the new entity will retain the CrossUSA name and continue to service all existing customers in an improved manner through the infrastructure of parent company American CyberSystems. The CrossUSA management team brings more than fifty years of rural outsourcing solution experience serving companies in technical and advisory roles. CrossUSA President Kevin Mcloughan further stated, "The merger with ACS helps further expand the reach of our rural outsourcing model throughout the United States. At this time of economic challenge for workers and Fortune 100 companies alike, we are uniquely positioned to add value to our customers and at the same time to the fabric of our country."
About CrossUSA
Founded in 1998, CrossUSA is a nationwide provider of Information Technology outsourcing solutions leveraging several US-Based Rural Development Centers that offer our customers workforce stability. CrossUSA's Rural Development Center delivery model provides organizations in the Healthcare Insurance, Healthcare provider, financial services and manufacturing industries with experienced, dedicated teams of consultants that provide stable, low-cost work force solutions for long-term projects and support. For more information visit http://www.cross-usa.com
About American CyberSystems, Inc.
Founded in 1998, American CyberSystems, Inc. is a global information technology services company offering IT consulting and staffing services, systems integration, and business solutions to organizations in a variety of industries. Through its extensive resource pool and global recruitment centers, ACS offers unparalleled expertise in delivering solutions for Fortune 1000 companies worldwide. ACS works in partnership with clients to understand their challenges, share their vision, and deliver mission specific solutions. For more information about American CyberSystems, please visit http://www.acsicorp.com.