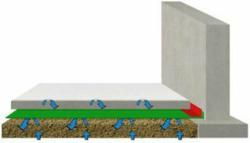 Hampshrie, IL (PRWEB) August 15, 2012
W. R. MEADOWS, a leader in the construction industry for more than 85 years, recently announced the development of its perm calculator, which allows users to compare the amount of moisture that is transmitted through a vapor barrier.
Try the New Perm Calculator: http://www.wrmeadows.com/perm-calculator/
The calculator is designed to show the estimated amount of moisture that is transmitted through a material of a given permeance over a user defined area and time period. The materials of varying permeances are compared to the requirements listed in ASTM E1745 of 0.1 perms.
By entering the perm rating of the vapor barrier/retarder wished to compare, the floor area in square feet, and the desired time frame to obtain the transmitted water volume through a material, the resultant calculation will be the amount for water vapor that is transmitted through a given material of the users' choice in a variety of units for comparison.
W. R. MEADOWS, INC. designs, manufactures, and markets high-quality building materials for today's construction professionals. Products are sold through an authorized distribution network. The family-owned and operated company focuses on product quality, business integrity, and outstanding service since its founding in 1926.
W. R. MEADOWS remains committed to producing environmentally-friendly products and systems that meet or exceed the latest regulations. From highway construction and repair, building construction and restoration, to waterproofing/vapor barrier/air barrier products and more, W. R. MEADOWS has been satisfying the needs of the public and private sector of the building construction industry for over 85 years.