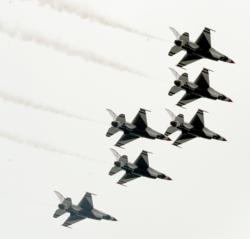 Air Force Week is endorsed by the Chief of Staff of the Air Force and provides opportunities to show and tell civic leaders, opinion leaders and the general public what we do, while at the same time, demonstrating our gratitude to the community.
New York, NY (PRWEB) August 16, 2012
In conjunction with Air Force Week New York City, the U.S. Air Force Aerial Demonstration Team, the "Thunderbirds," will perform a coordinated formation flyover pass in their F-16D "Falcon" aircraft over Yankee Stadium during the Yankees versus the Boston Red Sox game Aug. 18 at approximately 4:05 p.m.
The Thunderbirds will also fly over the Air Force Week opening ceremonies up the Hudson River near the U.S.S. Intrepid, Pier 86, Sunday, Aug. 19, at approximately 1 p.m. There will be one pass from South to North.
Following the ceremony, there will be an open water rescue demonstration in the Hudson River at 2:45 p.m. by two HH-60 helicopters and a pararescue team. The rescue team is from the New York Air National Guard's 106th Rescue Wing on Long Island.
The Thunderbirds will have their final flyover before the New York Mets versus the Colorado Rockies game Monday, Aug. 20, at 7:10 p.m. at Citi Field.
There will be an F-22 "Raptor" flyover of the Brooklyn Cyclones game on Coney Island Tuesday, Aug. 21, at approximately 7 p.m. The aircraft will be flown by members of the 325th Fighter Wing from Tyndall AFB, Fla.
Air Force Week provides the opportunity for the Air Force to reach out to the public where there is little Air Force presence. The week aims to increase awareness, understanding, and support for the accomplishments, performance, and sacrifices of our Airmen; the Air Force's and Airmen's role in the community; the Air Force's gratitude for community support; and that U.S. veterans continue to need community support.
For further up-to-date information and a list of other events, check out the Air Force Week website, http://www.airforceweek.af.mil, visit us on Facebook at [http://www.facebook.com/AirForceNYC or follow us @AirForceNYC and #AFWeek on Twitter.
Media interested in covering any events should contact 212-784-0147 or email Big.Apple-02 (at) us (dot) af (dot) mil.