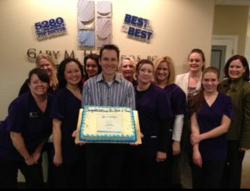 I love being an orthodontist!
Highlands Ranch, Colorado (PRWEB) August 15, 2012
Highlands Ranch orthodontist, Dr. Gary M. Holt, is celebrating his peer nomination for topDentists in 2012. In order to receive this prestigious nomination Dr. Holt's peers were asked to consider experience, continuing education, manner with patients, use of new techniques and technologies, and results. This nomination was quite an accomplishment for this Highlands Ranch orthodontics practice that has been in operation for only a year.
"It is a great honor to be peer nominated. That means other doctors are noticing our practice and the esthetic smiles we create. "- Dr. Gary Holt, Highlands Ranch orthodontist
Dr. Holt credits his success in large part to his staff's relentless focus on the customer experience. They are committed to exercising the utmost care and consideration for all of their customers. From the moment someone walks into one of Dr. Holt's two state-of-the-art orthodontics practices for their free initial consult to their last visit when they get to experience the joy of their new smile. Dr. Holt covers every last detail paying particular attention to the comfort of his customers every step-of-the-way.
"I love being an orthodontist—seeing the transformation of the smile—the confidence, self esteem, and enjoyment." – Dr. Gary Holt, Highlands Ranch orthodontist
Dr. Holt also credits the success of his Highlands Ranch orthodontics practice to his commitment of staying on the cutting edge of new technology. One way Dr. Holt does this is through use of the iTero Invisalign scanning technology. The benefit of this technology is not having to go through the uncomfortable experience of messy impressions. Instead, it only requires a simple and easy scan of the teeth with a wand and the patient is done. Dr. Holt's patients love the technology and the outcomes it creates.
"The 5280 Top Doc designation is synonymous with quality care, outstanding customer service, and great clinical outcomes." – Dr. Gary Holt, Highlands Ranch orthodontics
This Highlands Ranch orthodontist's unwavering commitment to the care of his patients and new technologies also earned him the ELITE Invisalign provider status. This not only means that people in the Denver and surrounding areas love trusting Dr. Holt and his Highlands Ranch orthodontics staff for their care, but that he is now in the top 5% of all orthodontists in the world with regards to skill, training and utilization of the Invisalign system.
About Dr. Gary M. Holt Orthodontics
Dr. Holt has been named Best of the Best by the Highlands Ranch Herald, recognized by 5280 magazine as one of the top docs in Denver and holds the honor of being part of only five percent of orthodontist globally who have the title of Elite Premier Provider for Invisalign. He is a public lecturer and published author. He loves living in Highlands Ranch with his wife, two daughters, son, and two Yorkies. He and his wife enjoy cycling, running and both have completed the Ironman Triathlon. In his free time he enjoys running the east-west trail up to Highlands Point or cycling Deer Creek canyon, where the views are amazing.
For media inquiries, please contact Dr. Holt by email at info (at) drgaryholt (dot) com or stop by the office:
Gary M Holt DDS PC
4185 E Wildcat Reserve Pkwy #100
Highlands Ranch, CO 80126
(303) 738-3175