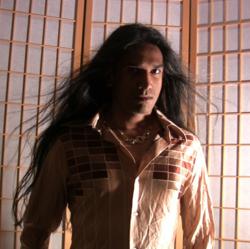 The journey towards becoming a Latin fusion artist and now, a tropical fusion and pop artist, has been incredible.
Chicago, IL (PRWEB) August 14, 2012
Anand Bhatt's album Salsa India (Bollywood Baile), alongside his album Exitos Latinos and songs Mi Corazon Insiste and Esta Noche are in consideration for Latin Grammy awards in six categories. Bhatt's music video for Esta Noche is also on the Latin Grammy ballot.
Actor, rock star, and philanthropist, Bhatt, is recognized as the first Indian-American Latin fusion artist by being considered for nine Latin Grammy Nominations in multiple categories.
Bhatt is being recognized for his excellence as a Latin pop, Latin fusion and tropical fusion artist for the XIII Latin GRAMMY Awards set for November 15, 2012 at the Mandalay Bay Events Center in Las Vegas. "It is an honor to be considered for an award among such incredible talent," said Bhatt. "The journey towards becoming a Latin fusion artist and now, a tropical fusion and pop artist, has been incredible. I thank my fans for recognizing me for such an interesting and up-and-coming genre like tropical fusion and I hope to create music that people from all ethnic backgrounds will love."
The Latin Grammys Academy recognizes a wide array of music and genres that emphasize an eclectic mix of performances and musical styling's. The 13th Annual Latin GRAMMY Awards will feature 47 categories and can be heard via Univision Radio or seen broadcasted live on the Univision Network.
For more information about Bhatt, please visit http://www.sonicwaveintl.com/anand, his Facebook page at http://www.facebook.com/anandbhattrock and follow him on Twitter @anandbhatt.
About Anand Bhatt
Celebrity musician Anand Bhatt is recognized as both a solo artist and once front man of hardcore band Anand Clique. Not only is Bhatt a internationally recognized musician, he is also a major television and movie personality. Bhatt has recently been busy with a successful year full of endorsements and global travel, hitting international radio charts and various interviews on India West, The Celebrity Café, Univision's Agenda Washington, and Telemundo's Buenos Dias Miami. His philanthropy is also exemplified by his commitment to The David Lynch Foundation and Simply Smiles, a non-for-profit organization dedicated to providing bright futures for impoverished children.
About Latin Grammys
The Latin Grammys is an award show organized by the non-profit organization the Latin Recoding Academy. Formed in 1997 the Latin Recording Academy was instated by the National Academy of Recording Arts & Sciences to honor those artists producing work in Spanish or Portuguese, along with a variety of other native dialects. Members of the Academy are citizens in over thirty countries and represent expertise in a broad range of music genres.
###