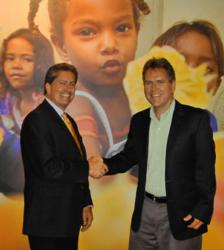 Oxfam's mission to provide this kind of humanitarian aid directly and efficiently lets us rest assured that our contributions are put immediately to good use
Boston, MA (PRWEB) August 16, 2012
Today North American design firm Stantec donated $50,000 to Oxfam, an international charitable organization focused on humanitarian relief. Stantec President & CEO Bob Gomes visited Oxfam America's Boston, Massachusetts headquarters to present the contribution.
"Over the last several years we have contributed to a number of disaster relief efforts across the globe," says Gomes. "These communities are in such dire need of support, and Oxfam's mission to provide this kind of humanitarian aid directly and efficiently lets us rest assured that our contributions are put immediately to good use."
The Oxfam network of local partners allows the organization to deploy resources and aid extremely quickly when a disaster strikes. The organization also works with communities to strengthen their infrastructure and reduce their vulnerabilities to such emergencies, which aligns with the philosophy and nature of Stantec's own work.
"This gift is an important contribution to help us move our humanitarian response work forward," said Raymond C. Offenheiser, president at Oxfam America. "Oxfam's disaster response and longer term development work continues long after an emergency fades from the public eye."
Stantec has provided support in many forms to international disaster relief efforts, including a $55,000 donation toward recovery efforts in Japan following the 2011 earthquake. The company annually targets donating one percent of its annual pretax profits to charitable and nonprofit organizations, as well as encourages and helps facilitate personal charitable giving and volunteerism by its employees.
"As we grow into an increasingly global organization, our support of communities all over the world becomes even more important," Gomes says. "We look forward to continuing our relationship with Oxfam and exploring what more we and our employees can do to help people in need."
About Stantec
Stantec provides professional consulting services in planning, engineering, architecture, interior design, landscape architecture, surveying, environmental sciences, project management, and project economics for infrastructure and facilities projects. We support public and private sector clients in a diverse range of markets at every stage, from the initial conceptualization and financial feasibility study to project completion and beyond. Our services are provided on projects around the world through approximately 12,000 employees operating out of more than 190 locations in North America and 4 locations internationally. Stantec trades on the TSX and on the NYSE under the symbol STN. http://www.stantec.com
About Oxfam
Forty percent of the people on our planet—more than 2.5 billion—now live in poverty, struggling to survive on less than $2 a day. Oxfam is an international relief and development organization working to change that. Together with individuals and local groups in more than 90 countries, Oxfam saves lives, helps people overcome poverty, and fights for social justice. To join our efforts or learn more, go to http://www.oxfamamerica.org.