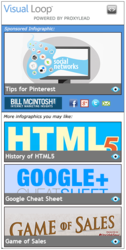 The widget will feature a mix of infographics submitted to Visual Loop with ProxyLead's free and paid customers, assuring a constant flow of content across many categories.
Bellevue, WA (PRWEB) August 15, 2012
Visual Loop, a curator of infographic content, has partnered with ProxyLead and its widget tool to now offer extended infographic distribution for brand marketers across publisher sites, paving the way for viral sharing. This partnership provides infographic designers, marketers, and other curators the opportunity to upload and target keyword-related widgets so that when it appears in a publisher's site, it is relevant to what a user is perusing.
Two levels of use are offered, including a free insertion. The O/I (order insertion) provides an infographic thumbnail, click-thru, and a full-size view link (link-back). The sponsored O/I gets in addition, a branding button/link and sharing tools that shares the full-size version, plus access to analytics to measure ROI. Infographics get maximum exposure and the user gets easy access to content they care about.
Content marketing, including infographics, is shifting into second gear now as an "advertising tool, " because users ignore online ads and embrace instead, content that is informative, entertaining/humorous, or thought-provoking. In addition, these users are social sharing it, increasing exponentially, free exposure. The Visual Loop branded widget exposes the content, giving lift to discovery and when shared, it starts the viral chain. Each share, links to the full-size version, not the widget, so for every share, there is a potential of re-tweeting, re-sharing, etc. To maximize this potential, optimization of the full-size infographic is imperative, adding SEO techniques and sharing buttons (also provided by ProxyLead).
ProxyLead's Managing Director, Alexandrea Day, says, "Having such a strong content partner as Visual Loop is the best way to scale the widget so publishers can have unlimited supply of unique, relevant infographics in their revenue-sharing widgets. "
ProxyLead's widget technology is a combination of ad network infrastructure, including a provisioning, targeting and tracking system that rotates infographic thumbnails in and out of widgets based upon keywords and location, and a business model that pays the Publisher for the placement of the widget. This is what marketers have been waiting for to further the expansion of infographics as a method for earning user engagement - a way to measure ROI.
Tiago Veloso, founder of Visual Loop, also commented on the new partnership: "For years now Visual Loop has been offering free exposure for information designers and infographic agencies from all over the world, which is why we're honored to be recognized as an 'Ambassador of Infographic Sharing' by ProxyLead." The widget will feature a mix of infographics submitted to Visual Loop with ProxyLead's free and paid customers, assuring a constant flow of content across many categories. "As an 'Ambassador of Infographic Sharing', Visual Loop does not take any revenue, commission or any other financial compensation from this partnership, besides the obvious brand exposure", explains Veloso. "Our goal is still the same as when we started curating infographics: share the immensity of data visualizations out there, from different cultures, formats, languages and contexts, through a multiplicity of channels."
So whether you are an infographic design firm or marketer with clients that want more views and shares, an infographic curator that wants more click thrus, or a publisher that wants to embed the widget and earn revenue, please reach out and connect. We want to work with you.
About ProxyLead: ProxyLead offers a technology platform for distribution of marketing content including infographics. The Company works with partners that are established in content marketing but do not have access to technology resources for increasing dramatically, through automation, content distribution. Contact us for more information at info(at)proxylead(dot)com.
About Visual Loop: Visual Loop is a digital environment dedicated to all things related to data visualization. Besides the popular Visual Loop Tumblr, one of the biggest online collections of infographics, you can also find a more in-depth content on our main site. Contact us for additional information at contact(at)visualoop(dot)com.