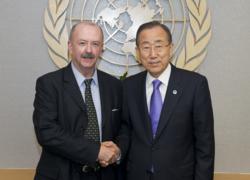 Palo Alto, CA (PRWEB) August 15, 2012
Palo Alto – August 2012 – Sofia University (formerly Institute of Transpersonal Psychology) President Neal King was invited to meet with UN Secretary-General Ban Ki-moon during a recent visit to New York. King was appointed President of the International Board of University Presidents (IAUP) by its Board of Directors, after the untimely death of former IAUP President, Dr. J. Michael Adams.
Founded in 1964 and headquartered in New York, the International Association of University Presidents is comprised of over 500 university chief executives from higher education institutions around the world. Members are individuals who serve as presidents, rectors or vice-chancellors at accredited colleges or universities.
Dr. King stated, "It was a true honor to meet with Mr. Ban during this visit, as we share a mutual enthusiasm for the International Association of University Presidents organization and global higher education. I look forward to leading IAUP and continuing the legacy and close relationship with the United Nations that my friend and colleague, Dr. J. Michael Adams, established."
In his role as President of IAUP, Dr. King is working with the Secretary-General on the United Nations Academic Impact Initiative, and is a member of the joint IAUP / United Nation's Commission on Disarmament Education, Conflict Resolution and Peace. Founded in 1990, the commission's overall mission is to "promote peace in our global society; to promote a more equal distribution of wealth and social conditions; and to promote tolerance, mutual understanding, and respect." Commission members consist of representatives from colleges and universities from around the globe as well as UN staff.
In addition to his role as president of IAUP, Dr. King currently serves as president of Sofia University, is a founding member of the LGBTQ Presidents in Higher Education, and is also a member of the Executive Board of California Campus Compact.
About Sofia University
Founded in 1975, Sofia University (formerly the Institute of Transpersonal Psychology) is a private, non-sectarian university accredited by the Western Association of Schools and Colleges. For over 35 years, within the context of scholarship and research, the school has offered transformative education for the whole person, probing the mind, body, spirit connection. As Sofia University, the school is broadening its mission, reaching into multiple disciplines and adding undergraduate study. For more information, visit http://www.sofia.edu.
###