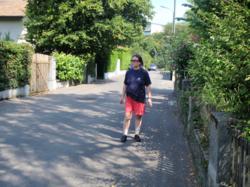 Haifa, Israel (PRWEB) August 16, 2012
The GaitAid portable home-use device is the result of 15 years of award winning research. This system provides audio and visual feedback to assist those with chronic mobility issues that result from conditions like Parkinson's disease, multiple sclerosis, and cerebral palsy. With the GaitAid patented technology, patients walk a few minutes a day wearing the easy-to-use device, which gives the brain additional sensory feedback through sight and sound. The end result is a unique and effective treatment of Parkinson's disease, which allows for improved balance and performance during walking.
Customer Dr. Claire Sagnières in Switzerland recently tried the device and found that it transformed her ability to walk. Previously, she had tried a variety of treatments for Parkinson's disease including medications and Parkinson's disease specialty rehabilitation clinics as well as strategies like following markings on the floor and counting steps. However, none of these options were successful. Before trying GaitAid, Dr. Sagnières would fall up to 25 times per day. She states, "Right on the first day, after using it for 5 minutes, I walked all day long without falling at all!" Through using GaitAid for a few minutes a day, people with Parkinson's Disease can walk more confidently and with more fluidity. With the device, patients can relearn to walk increasing their functionality and avoiding the costs and side-effects of medication and surgery.
Five months after beginning her use of the GaitAid, Dr. Sagnières points out, "For now I'm still not cured, since the symptoms will come back if I stop using it…but I'm able to live as though I was cured. Recently I started using it outside for 5 minutes with my shoes on and I keep walking without the device or cane for 30 minutes. All people who see me are astonished… I think it should become first aid for all people with Parkinson's all over the world."
GaitAid is founded on the philosophy that walking with increased balance allows the body to safely experience physical exercise, which benefits the body and mind. Studies have shown that exercise releases endorphins that ease symptoms of stress and depression.
Company founder Yoram Baram PhD states, "We believe in the patient's natural ability to improve his or her condition. We offer movement disorder patients a way to help themselves, even when the modern medical system can't. Our Virtual Walker device is easy to use and brings rapid improvement leading to a higher quality of life." Baram is a Professor of Computer Science and incumbent of the Roy Matas / Winnipeg Chair in Biomedical Engineering at the Technion, Israel Institute of Technology.
About GaitAid
The GaitAid is the result of 15 years of award winning research. This portable home-use device, provides an alternative means to sensing and balancing the walking body. In addition to being a treatment for Parkinson's disease, GaitAid assists those with other issues including stroke, Multiple Sclerosis, and Cerebral Palsy to improve walking. The system includes glasses and headphones which display an image super-imposed on the real environment and plays a sound for every step. It incorporates patented technology as well as the findings of world-leading researchers investigating brain function, learning theory and education of sensory feedback and compensation strategies. GaitAid is available for an in-home, 30 day trial period. More information is available at http://www.medigait.com.