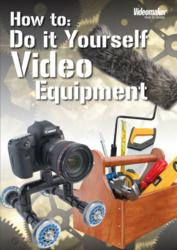 Chico, CA (PRWEB) August 16, 2012
Videomaker magazine has released a new guide for indie filmmakers and video enthusiasts to build their own video equipment on the cheap. Many video creators always want the latest and greatest tools but don't have the budget for them. In this DVD, Videomaker explains how a little know-how and an afternoon trip to the hardware store can help any filmmaker add some polish and professionalism to their next production.
The "How to: Do it Yourself Video Equipment" DVD shows some quick fixes that can make any video look professional without spending a ton of money. How can one make a working camera matte with cardboard and glue? Or a DSLR camera rig out of PVC pipe and a mousepad? How about making a table top dolly out of roller blade wheels and a rubber mallet? This DVD will show exactly how it can become a reality.
In "How to Make a Matte Box," Videomaker will demonstrate how to assemble a simple and inexpensive matte box to keep shots looking clean and pristine. Big studios spend a lot of money on matte boxes to keep extra light out of their shots, but it's possible to make one at home out of regular household items.
"How to Make a Table Top Dolly" shows how to build the body, axles, wheels, and camera mount for a table top dolly that can help add both character and dimension to any video production.
"How to Make a Boom Pole, Blimp, and Windscreen" gives tips for building the necessary equipment to catch great audio. Good video is all about good sound. Audiences will not stand for jittery, muffled audio, so a serious video creator needs to be extra careful when putting together sound gear.
"How to Make a Car Mount" shows how to build a cheap, quick and SAFE car mount using simple and inexpensive materials. This reliable set-up is a boon to any moviemaker shooting moving cars.
"How to Make a DSLR Camera Rig" shows how to build a camera rig to get the solid, steady footage that every good movie needs.
There's no way around it, video equipment is expensive. And it's hard for the small time videographer or indie filmmaker on a budget to justify these big expenses no matter how good they could make the final movie look. After all, what's the good of purchasing high-end equipment if it completely drains the film budget so that the movie remains incomplete? No one should have to break the bank before they even get started filming; "How to: Do it Yourself Video Equipment" will show how to create quick, easy and cheap gear without going into debt.
Founded in 1986, Videomaker was the first magazine to introduce video to a mass, non-industry audience. Though the video field has exploded dramatically in recent years, Videomaker still remains dedicated to its core mission: To encourage aspiring directors and documentarians to use video technology to find their own voices and tell their own stories. Today, Videomaker is more than just a magazine. It's grown to also become a robust online community, offering a full line of training DVDs, videos-on-demand and a series of webinars and hands-on video training workshops. Every month, more than 50,000 professional videographers, independent filmmakers, and home video hobbyists turn to Videomaker to get the latest video scoops.
Visit http://www.videomaker.com/r/647 to learn more about making your own video equipment.