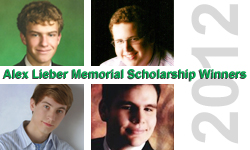 "We were overwhelmed by the number of applicants for the Alex Lieber Memorial Scholarship, and by the quality of the candidates," noted Alex's parents, Tammy and Jim Lieber. "We wish success and the best for every applicant in all their endeavors."
Georgetown, MA (PRWEB) August 16, 2012
Congratulations to Jacob, Austin, David, and Caleb!
This fall, Jacob Jansen will be a sophomore at Florida Institute of Technology studying civil engineering; Austin Knurr will be a freshman at the University of Wisconsin–Madison; David Mordigal will be attending Rochester Institute of Technology in Rochester, New York, as a freshman; and Caleb will be entering his freshman year at Webster University in St. Louis, Missouri, studying theatrical lighting design.
All winners have shown true dedication to their communities, serving as counselors at bleeding disorder camps, helping out at local food banks, and educating people about hemophilia. They all exhibit a positive outlook on living with hemophilia, and in turn, they inspire others with bleeding disorders.
The Alex Lieber Scholarship Award was established in memory of Alexander Scott Lieber, who was born in Florida in 1986 with severe hemophilia A. Alex passed away on December 21, 2003, at age 16, after a brief bout with bacterial meningitis. He is greatly missed, but through this scholarship, his inquisitive and caring spirit lives on.
"We were overwhelmed by the number of applicants for the Alex Lieber Memorial Scholarship, and by the quality of the candidates," noted Alex's parents, Tammy and Jim Lieber. "We wish success and the best for every applicant in all their endeavors."
About LA Kelley Communications, Inc.
Since 1990, LA Kelley Communications, Inc., has been a world leader of groundbreaking educational materials and programs on hemophilia and related bleeding disorders. With more than a dozen books, numerous publications, and the oldest hemophilia newsletter in America, LA Kelley Communications remains a trusted source of practical information about raising children with bleeding disorders. For more information about LA Kelley Communications, please visit http://www.kelleycom.com or call 978-352-7657.