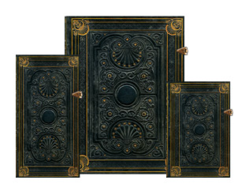 Paperblanks is continually looking to grow its writing book offering with designs that speak to the originality and exquisite beauty that we're known for.
VANCOUVER, B.C. (PRWEB) August 15, 2012
Paperblanks, now celebrating its 20th anniversary as a leading provider of quality writing books worldwide, today unveiled two new collections for fall/winter 2012. They include Nocturnelle, a reproduction of the 1892 French book cover "The Poetical Works of Thomas Moore," and Ori, inspired by works of Japanese artist Yuko Nishimura. Both will be available at Paperblanks' retailers nationwide starting in September. These new collections, along with new storage box folders and 2013 day planners, are perfect for school-returning instructors, students and those who appreciate elegant, high-quality writing and organization materials.
Since 1992, Paperblanks has been known for introducing beautiful, intricately crafted writing books, including journals, day planners and address books. The rich designs celebrate centuries of creativity and are inspired by world art and culture. Paperblanks works exclusively with libraries and museums around the world to discover and license unique book bindings, tapestries, art pieces and more that they bring to life in new designs each year. To date, Paperblanks has sold more than 27 million books and continues to be a top selling brand in 50 countries worldwide. Today, there are over 300 writing book designs available in a variety of formats from large to purse and pocket-size. New products include:

Nocturnelle: Paperblanks reproduction of an antique French binding is based on a cover designed in 1829 by publishers A. & W. Galignani for "The Poetical Works of Thomas Moore." The cover suggests the fine Moroccan leather that was revered by discerning bibliophiles, and the decorations mirror architectural trends of the time such as rosettes, spirals and stylized leaves. Nocturnelle is available in Grande, Midi, Mini, Slim and Ultra formats. Suggest retail price ranges from $19.95 to $32.95.
Ori: The exquisite Ori collection by Artist Yuko Nishimura celebrates the ties between art, culture and everyday life in Japan. From the simple fold, we are reminded of the unending story of human ingenuity. Artist Yuko uses folded curves and straight lines suggesting formal structure and creative impulse. While minimal, each of the four Ori designs - Arroyo, Cadence, Ripple and Dune - are breathtakingly sophisticated. Suggested retail price of $14.95 for Mini format.
Safavid and Old Leathers Storage Box Folders: From Paperblanks' Safavid and Old Leathers Handtooled and Black Moroccan collections, new storage box folders feature hard embossed covers with an expanding harmonica file out that includes 10 built-in dividers designed to fit A4 and letter-sized documents. Customizable label tabs are also included. Each design has a suggested retail price of $39.95.
2013 Day Planners: Paperblanks line of 2013 day planners make keeping track of activities simple and stylish. Day planners are offered from most collections and come in a range of formats, including day-at-a-time, week-at-a-time and 18-month, so users can choose what best suits their needs. Suggested retail price ranges from $8.95 to $29.95.
"Paperblanks is continually looking to grow its writing book offering with designs that speak to the originality and exquisite beauty that we're known for," said Tammy Colburn, US sales and marketing director at Paperblanks. "Our new Nocturnelle and Ori collections, with their intricate details, are perfect additions, and we're sure they'll quickly become cherished favorites among writing fans of all ages, students, professionals and more."
About Paperblanks: Paperblanks, founded in 1992 by Hartley & Marks Group, offers exquisite writing books that provide a unique, personal place for self-expression. Inspired by the works of visionaries, rebels and artists across the ages, each design embodies a true story and is brought to life with old-world craftsmanship and high quality materials. With most taking years to license and develop, their designs draw a connection to global art and culture that users can see and feel in each and every book.
Paperblanks products are sold worldwide, and are available at more than 2,000 stationery shops, bookstores, museums and select online retailers across North America. Locations include the Metropolitan Museum of Art, the Getty Museum, the New York Public Library, the Art Institute of Chicago, the Morgan Library, the LA County Museum of Art and the National Gallery of Art and Lovenotebooks.com. For more information, visit http://www.paperblanks.com, http://www.facebook.com/paperblanks, and @paperblanks.