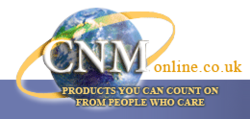 Products You Can Count On From People Who Care
North Yorkshire, UK (PRWEB UK) 15 August 2012
CNM Online UK has been the leading online shopping portal for home improvement products. With the introduction of a wide range of highly efficient Dehumidifiers, the company keeps on its promise of offering complete solutions. Dehumidifiers have been around for a long time. Their benefits have improved the health and lives of people. The new range of Dehumidifiers by CNM Online is loaded with versatile features and functionality, making them more efficient than their predecessors. Dehumidifiers offered by this UK online store offer an important solution for getting rid of problem of flood water, dampness or excessive moisture in a room.
On introduction of the new range of humidifiers, a senior spokesperson, CNM Online UK, says, "Dehumidifiers help cool body by eliminating humidity from the environment. Further, it controls the damage caused by excess moisture. This appliance controls moisture, which can be harmful not only to the people living there, but also to the wooden furniture, paper, and other sensitive materials at home. Dehumidifiers absorb moisture from the clothes and control the temperature of the storage room, too."
Humidity triggers off a range of health risks, ranging from asthma to skin diseases. Dehumidifiers help purify the air by absorbing excess moisture and removing allergens from the air. The appliance has been a huge hit at the places where excessive moisture in the air or flood water is a nuisance to people. Mold and mildew growing in the homes due to excessive moisture cause several health risks including airborne respiratory problems and skin diseases. Moreover, it gives rise to many insects in the homes. This moisture also creates other practical problems such as it delays drying of laundry. But, with the introduction of these well designed and highly efficient dehumidifies, people need not bear all these problems any longer. These dehumidifiers are easy to install and use. They are beneficial for elderly people, who feel better in a clean and dry atmosphere inside their homes.
The Senior Spokesperson, CNM Online UK, continues, "This high quality range of Dehumidifiers introduced by us is suitable for places like holiday homes, garages, storage, that require a dry environment because they are kept closed for many days at a stretch. The new range comes with smart features. They do not drain out the complete moisture from the environment, but controls humidity levels which also help control the temperature. The new range of dehumidifiers at CNM Online has received a good response from UK people."
About CNM Online
CNM Online is a family run business founded in 2004. The site has more than 200,000 customers and believes in offering solutions rather than products. The largest supplier of heating products for home, CNM Online offers a range of efficient and affordable solutions.
For more, visit http://www.cnmonline.co.uk