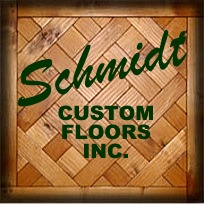 (PRWEB) August 15, 2012
The National Wood Flooring Association honored Schmidt Custom Floors, Inc. with the 2012 Best Reclaimed Floor of the Year award for their work on restoring hardwood floors at Bartolotta's Rumpus Room in downtown Milwaukee.
The specialty hardwood flooring company in Waukesha created the hardwood floors out of aged horse fencing and laid it in a herringbone pattern. The floors were then flat-scraped, oiled and transformed into a work of art.
"The excitement of this job entailed Bartolotta's allowing Schmidt Custom Floors to use a material that would be considered firewood and turn it into a true work of art," said Tom Zarek, project manager.
The award was presented to Tim Schmidt, president, in Orlando, Florida on April 12 by Carter Oosterhouse from HGTV.
"The Rumpus Room was unique to achieve an old world feel in a newer building," said Schmidt
Schmidt's three sons, Austin, Taylor and Logan, also worked on the project. The three sons specialize In handcraftsmanship and work under the business name Handcrafted by Schmidt.
"It was awesome to see the transformation of the restaurant when we installed the reclaimed herringbone floor over the existing 70s-style tile, said Austin Schmidt.
A complete article about the family's prestigious award is coming out in the June/July issue of Hardwood Floors Magazine.
Call 262-547-8763 or visit http://www.schmidtflooring.com for more information.
About Schmidt Floors, Inc.
The goal at Schmidt Custom Floors is to have beautiful, quality floors installed professionally in southeastern Wisconsin homes that go above and beyond industry standards.
Since 1968, Schmidt Custom Floors, Inc. has provided top customer service and quality work. The craftsmen at Schmidt Custom Floors are certified the National Wood Flooring Association.