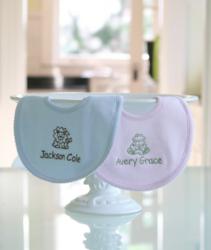 St. Louis, MO (PRWEB) August 16, 2012
With a passion for personalized baby gifts, Makaboo Founder Cindy Teasdale McGowan has created an online baby and children's gift site that is winning awards! The 2012 Cribsie Awards in partnership with The Honest Co., are hosted by top parenting sites Stroller Traffic and A-List Mom to recognize the best-of-the-best products for babies and tots.
"We are absolutely thrilled to be recognized as style innovators in baby gifting with our Cribsie Award," said Makaboo founder Cindy Teasdale McGowan. "We'd also like to thank our fellow nominees, among whom it's such an honor to even be compared. Barney's had some amazing gifts this year and Ralph Lauren Baby always shines."
Makaboo baby gifts are the ones that everyone "oohs" and "ahhs" over at baby showers because these stylish baby gifts are personalized with just the right touch of whimsy. It's easy to see why Makaboo won the Cribsie for "Greatest Baby Gifts." Upon visiting makaboo.com, you'll notice that they have compiled the best selection of high quality baby gifts made by brands that parents already know and trust. The site has a wide variety of adorable baby blankets, burp cloths, baby clothes, baby onesies, and monogrammed baby hats all waiting to be transformed into a unique personalized baby gift. Simply choose a special newborn gift then add personalized text or monogram, choose font and thread colors and an exclusive Makaboo icon, and then see in real-time exactly what the personalized baby gift will look like before purchase.
Creating and sending a stylish personalized baby shower gift has never been so simple! And celebrities agree - stars like Jessica Simpson, Elton John, Alanis Morissette, Courtney Mazza and Mario Lopez, among others, all enjoy Makaboo items as gifts to give and get!
--
Makaboo was founded by Cindy Teasdale McGowan – an aunt to 28 kids and a mother of one. The company's store in downtown St. Louis, MO also serves as a production facility where all of the adorable embroidered baby gifts are made. If you are from the St. Louis area you are welcome to visit the shop, but for the full Makaboo experience please visit http://www.makaboo.com to start making impossibly cute personalized baby gifts today!