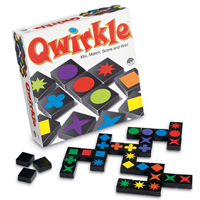 Atlanta, Georgia (PRWEB) August 17, 2012
Expert 10rate editors have chosen the Best Toys for Kids Age 8,9,10,11 in their latest Top 10 list in the baby/kids arena. Children advancing through elementary school and prepare for middle school, they begin to learn even more complex subjects like history, science, social studies, and health. 10rate looked for educational toys that made learning and discovering new things fun and entertaining. Some other criteria editors used for compiling the list were:
1. Fun for the whole family
2. Creativity, imagination, and working out puzzles
3. Social interaction
4. Strategy, logic, and problem solving
5. An advanced appreciation for science, engineering, and creating models
6. Games that encourage competition and teamwork
According to the top 10 list, two of the best toys currently on the market for 8,9,10, and 11 year-old's are the Qwirkle Board Game and My First Microscope. Concerning the Qwirkle Board Game, reviewers stated that, "In a clever twist on the game Uno, players attempt to build lines of blocks featuring the same color or shape. The grid of tiles that develops resembles a Scrabble board. One of the great aspects of Qwirkle is that you can set up anywhere as long as you have a large enough playing space. The rules are simple enough for young children to grasp."
When reviewing the My First Microscope, editors said,"Leaps and bounds ahead of cheap, plastic microscopes, this sturdy, heavy-duty microscope is very reasonably priced at $72.27. A scientific instrument like the ones used in high school labs, it produces clear, sharp magnifications of such materials like frog's blood, mosquito head parts, and human skin cells. You and your budding scientist can also buy blank slides and collect your own specimens to examine up close."
10rate.com conducts reviews in various product and services categories and publishes "Expert Top 10 Lists for Everything in your life." The company's web site strives to "Make it Easy" to select from the hundreds of choices there are in the product and service market place. All products and services are thoroughly researched by the companies expert editors prior to receiving a rating on a 1-10 scale. In addition to product reviews the companies editors write guidelines, buying guides and articles on various topics surrounding each product or service category covered to help educate the consumer.