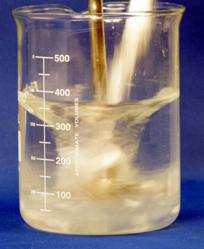 "The Guar Market that we are experiencing is unprecedented, said Maureen Akins, technical manager for TIC Gums.
White Marsh, MD. (PRWEB) August 15, 2012
With tight supplies and prices in a state of flux, TIC Gums is introducing Ticaloid Guar Replacement (GR) 8700. Ticaloid GR 8700 is a 100% replacement for guar gum in certain applications. It is a low viscosity solids builder and is useful in film type applications like breath, energy and vitamin strips and in some health beverages, like those for people suffering from dysphagia.
Guar Gum Demand
The increased demand for guar gum stems from the energy industry's use of it for horizontal drilling and well fracturing or "fracking". As overall demand for guar gum rose from 250,000 metric tons per year to 480,000 metric tons per year (350,000 metric tons for the energy industry alone) over the past 24 months, food manufacturers and developers are interested in finding substitutes for what was once a relatively inexpensive and readily available hydrocolloid. It was this need that was the catalyst for this and other similar inventions from TIC Gums.
Exploring Replacements for Guar Gum
When starting to plan formulations for guar gum replacements and extenders, researchers from TIC Gums first identified what the most important, functional characteristics were that needed to be copied. In the case of Ticaloid GR 8700, the characteristics were to both act as a film former and thicken specialized beverages.
By leveraging the common language of the Texture Lexicon from the Texture Revolution ™ these needed attributes were identified. Knowing this and agreeing on the descriptions were key to then finding gum and gum systems that mimicked and delivered but without any guar gum present. The texture attribution process involves all of the senses affected by texture including visual, tactile and other mechanical qualities.
At the 2012 Prepared Foods R&D Applications Seminar in Chicago, IL. TIC Gums presented "Replacing Guar Gum: An Exercise in Product Development." This event educated formulators from the food and beverage industries on ways to approach specific application challenges, specifically guar replacement. "The Guar Market that we are experiencing is unprecedented, said Maureen Akins, technical manager for TIC Gums and presenter at the seminar. "Pressures on the demand for guar from outside industries, e have caused prices to sky rocket, and it's made it a little bit unaffordable for those of us who are used to this very economical grade of hydrocolloid." TIC Gums' presentation discussed using the common languages of texture defined in the Texture Lexicon, which gives food developers the opportunity to define the desired textural attributes desired in food early in the development process. "Through the use of the Texture Lexicon, texture can be designed in the early development process and reduce the amount of time needed to take a new or revised product from the lab bench to the store shelf," Akins concluded.
About TIC Gums
TIC Gums is a global leader in advanced texture and stabilization solutions for the food industry. Food and beverage companies rely on TIC Gums to improve the texture, stability, consistency, nutritional profile, and shelf appeal of their products. Legendary customer service, high quality standards, and the unrivaled knowledge of our Gum Gurus have made TIC Gums the industry leader for more than 100 years.
###