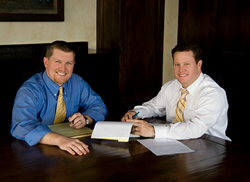 Salt Lake City, UT (PRWEB) August 15, 2012
The attorneys at Christensen & Hymas recently recovered a confidential settlement for a woman who was permanently scarred and burned by hot tanning bed bulbs after an incident at a local tanning salon.
Attorney Ken Christensen said, "Courtnie paid for and was told to use a specific tanning bed at Golden Tan Salon in Sandy, Utah. The bed was turned on, but when Courtnie went to lay on it, the protective glass had been removed and the scorching hot bulbs shattered beneath her, deeply cutting and permanently burning her body. The room smelled like burning flesh. She immediately blistered and was rushed to a doctor for medical care."
Mr. Christensen also stated that, "due to the negligent behavior of the employee working at Golden Tan Salon, Courtnie will have physical scars for the rest of her life. Courtnie is an active woman who takes care of herself. Even after plastic surgery, the scars still remain, which will forever be a reminder of the trauma she experienced."
The attorneys at Christensen & Hymas were able to secure a confidential settlement from the defendants that provided Courtnie with the financial means to cover her medical bills, which included hospital visits, pain medications, and plastic surgery. Her future medical costs were also provided for.
About: Christensen & Hymas, Utah Personal Injury Lawyers
The personal injury attorneys at Christensen & Hymas represent clients who have been injured in car accidents, Utah bicycle accidents, dog bites, or a client who has lost a loved one in a wrongful death in Utah. They have won cases amounting to millions of dollars, which have ultimately enabled those who have been injured to better deal with the effects of personal tragedy that accompanies wrongful injuries. They have also written multiple free accident books, covering in great detail how to handle a personal injury and the repercussions therefrom.
For a free consultation with a Utah personal injury attorney, call Christensen & Hymas today at (801) 506-0800 or visit their website at http://www.utahpersonalinjurylawfirm.com/.
Christensen & Hymas, Personal Injury Law:
Main Office -- 11693 S. 700 E. Ste. 100, Draper, UT 84020 -- (801) 506-0800 -- Fax: (801) 506-0801
Utah County Office -- 584 S State Street, Orem, UT 84058 -- (801) 224-2999
Davis County Office -- 503 West 2600 South #200, Bountiful, UT 84010 -- (801) 294-9500