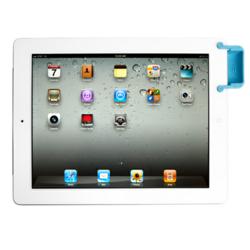 The SoundBenderTM amplifier is a simple, stylish solution to an everyday problem," said creator Rabbi Moshe Weiss
Minneapolis, Minnesota (PRWEB) August 14, 2012
SoundBenderTM amplifier is wrapping up its final week of a successful funding campaign on Kickstarter.
The SounderBenderTM amplifier magnetically secures to the iPad speaker area and bends the sound toward you causing sound amplification and enhancement of your listening experience of music, movies, games, audiobooks and facetime.
Currently entering its final week on the popular crowdfunding site Kickstarter, the SounderBenderTM amplifier is a must have accessory for any iPad owner. The SoundBenderTM amplifier surpassed their original funding goal of $4,500 on July 30th and with 4 days still remaining they are well on their way to reach their stretch goal of $10,000.
The SoundBenderTM amplifier has already received media attention from tech blogs including PadGadget, Appadvice, Gigaom, AppsRumors and is available in multiple colors.
"The SoundBenderTM amplifier is a simple, stylish solution to an everyday problem, " said creator Rabbi Moshe Weiss, "It has been so enthusiastically received by the Kickstarter crowd that it seems I have started the Bender Backer revolution!"
Pricing for the SounderBenderTM amplifier started at $7 for a single Bender, which has sold out quickly, and range in packaging options up to $5,000 for 1,000. Upon reaching their stretch goal of $10,000 each Kickstarter backer receives a free red SoundBenderTM with their pre-order.
For more information and to order the SounderBenderTM, visit http://bit.ly/kssoundbender.