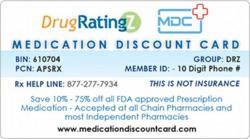 RxWiki.com sees great things on the horizon for its partnership with MedicationDiscountCard.com
Houston, TX (PRWEB) August 15, 2012
Medication Discount Card LLC provides free prescription discount cards that can save patients up to 75% on the cost of all FDA approved medications. There is no application process and no qualification criteria to receive the card.
The new partnership aims to provide consumers with a comprehensive offering of trusted medication information, pharmacy resources, and substantial discounts on FDA approved medications. RxWiki will promote the discount card on its website.
RxWiki is a consumer health website featuring the latest medication information and breaking health news. RxWiki's original medication content is created and edited exclusively by licensed Digital Pharmacists to ensure the information is actionable, accurate, and easy to understand.
Jeremy Duboys, President of Medication Discount Card LLC and company spokesperson, shared details of the announcement:
"MedicationDiscountCard.com is pleased to announce its strategic partnership with RxWiki. We want to reach out to new customers with our discounts and, given RxWiki's position as a leading digital publisher of medication information, RxWiki.com is the perfect choice. We look forward to a fruitful partnership."
Mr. Duboys further explained the aim of the MedicationDiscountCard.com:
"We started MedicationDiscountCard.com to provide prescription drug discounts to patients in the greatest need. Our goal is to give consumers the largest savings on medications possible compared to other cards. This is a time of financial hardship for many and we want to help ease the struggle. As such, we invite patients to consider the savings our pharmacy card will offer compared to other leading providers."
Grace Hackett, Vice President of Client Relationships at RxWiki, Inc., commented on the partnership which will enable customers to print off a free Medication Discount Card from http://www.RxWiki.com/rx-discount-card.
"RxWiki.com sees great things on the horizon for its partnership with MedicationDiscountCard.com. As a resource consumers trust for the latest medication information, our goal is to empower individuals to make informed decisions about managing their health. We are pleased to deliver tangible savings opportunities for our consumers with the addition of the Medication Discount Card on RxWiki.com. "
For more information on the Medication Discount Card, go to http://www.MedicationDiscountCard.com.
For more information on RxWiki, please visit to http://www.RxWiki.com.