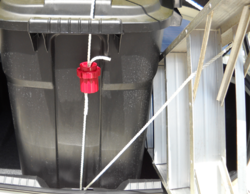 Production issues almost killed us
Brentwood, TN (PRWEB) August 15, 2012
Just Right Products LLC, creators of the patented Super Rope Cinch device that ties and unties rope without using a knot, recently secured AP Enterprises Inc. as new manufacturer. The move enhanced product quality substantially due to AP Enterprises injection molding knowledge, larger injection mold presses and better quality control. The move was motivated by communication and production issues with the previous manufacturer.
In June 2012, the enormous 1500-pound Super Rope Cinch multi-cavity injection mould was relocated to its new home at AP Enterprises injection mold facility in Irving, Texas. According to Tim Bourke, president of Just Right Products LLC, "The new improved Super Rope Cinch is simply exceptional. It's taken over a year and a lot of lessons learned to perfect our product. Our persistence has finally paid off. The new Super Rope Cinch locks and unlocks ropes easier and faster than ever before. Our confidence is at its peak with the quality we now offer."
Beginning in June 2011, the Super Rope Cinch had a rough year in production with its previous manufacturer. The previous manufacturer (not being named) had much difficulty in creating a Super Rope Cinch worthy of Just Right Products' high quality standards. Nearly 100,000 Super Rope Cinch's were manufactured from June 2011 through February 2012.
According to Drew Bourke, vice President of Just Right Products LLC, "Production issues almost killed us. We've been through the ringer having to deal with excuses and poor quality control from our previous manufacturer. It was time for a change, and we made the move quickly, at a tie when our product is in higher demand than ever before. Within two weeks of test runs at AP Enterprises Inc., we produced the highest-quality product we've ever offered. AP Enterprises has committed to quality control standards that exceed even our expectations. This was a very expensive lesson for us to learn, and at a very critical time."
In February 2012, Just Right Products LLC hired an independent firm to unpack and hand-test the over 35,000 parts remaining in their packaging warehouse. "We know that if even one Super Rope Cinch fails to work correctly or is difficult to use, it will have a very long-term negative effect on our brand. When hand-testing the 35,000 questionable Super Rope Cinch's, we made one very simple rule: If a five year-old boy can't easily lock and unlock rope with the Super Rope Cinch, it goes in the trash. And, nearly 15,000 Super Rope Cinch's were thrown in the dumpster. It cost a small fortune to unpack, hand-test, re-pack and then re-ship the questionable Super Rope Cinch's. Yet, it was one of the best decisions we've ever made. We owe a great deal of thanks to Mike Patterson at The Komplete Group for recommending AP Enterprises to us", according to Drew Bourke, vice president of Just Right Products LLC.