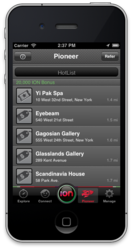 Its better that merchants hear about ION from their loyal customers.
Atlanta, GA (PRWEB) August 15, 2012
Sionic Mobile today released a nationwide merchant HotList inside its free ION Rewards® mobile offers, payments and rewards app. The Company is following the approach of highly successful network marketers by paying its app users both signing bonuses and residuals for bringing new shops and restaurants to the ION network.
"We believe consumers who regularly shop and dine in their neighborhood are better at signing up new ION merchants than a direct sale force," stated Ronald Herman, CEO. "Shop and restaurant owners and managers have been bombarded by sales reps pushing coupons, punchcards and mobile credit card systems," continued Herman. "It's better they hear about ION from their loyal customers than another rep."
ION users signing new merchants from the HotList are paid a one-time bonus ranging from 5,000 to 20,000 IONs ($5-$20) PLUS a healthy portion of the small success fees merchants pay for the ION Loyalty® service as ongoing, residual payments. Casual users are paid in IONs. Network marketing experts opting to link a commercial Dwolla account are paid in cash.
Sionic Mobile has set aside nearly $1 million to pay its Pioneer users to sign HotList merchants nationwide.
###
About ION
ION is the first, fully digital mobile payment and social loyalty app combining merchant offers, customer rewards and card-less payments in simple apps for phones and tablets. ION Loyalty® pays merchants for customer rewards and helps neighborhood retailers and restaurants increase sales and cut credit card fees. ION Rewards® pays consumers for shopping and dining, paying with their phones, connecting with friends and signing up favorite places. The free apps support iOS and Android devices.