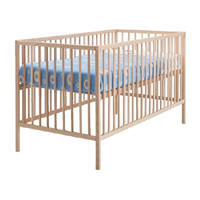 Atlanta, GA (PRWEB) August 22, 2012
Expert 10rate editors have chosen the Best Baby Cribs Reviews in their latest Top 10 list in the baby/kids arena. There are so many infant cribs out on the market right now and the sheer number of brands and styles can boggle the mind. Then look at safety features and recall histories and there is yet another headache. Many have similar features, but close scrutiny reveals a few key differences which make some brands a better bargain than others. Some other criteria editors used for compiling the list were:
1. Price of the crib
2. Construction quality
3. Safety certifications and features
4. Features like changing into a toddler bed or having wheels
5. Weight of the crib
6. Recall history
7. How well all these are used together
According to the top 10 list, two of the best baby cribs currently on the market are the Child Craft Eastland Lifetime Review and the Graco Lauren Classic Review. Concerning the Child Craft crib, reviewers stated that, "Parents reluctant to spend big bucks buying more than one bed as their kids grow can rest easy with the Eastland Lifetime. This crib, which received the highest rating on our Top 10 List, is billed as the only bed parents will ever need to purchase for their child. It converts from a crib to a toddler bed, then to a full size bed, although the full size bed rails will need to be bought separately."
When reviewing the Lauren Classic crib, editors said,"The Graco brand is one widely recognized by parents not only for its infant cribs but also its strollers and other products. The Graco Lauren Classic converts from a crib into a toddler bed when the time comes, and it has a three-position adjustable mattress. No guard rail is needed for conversion. It has stationary sides, and day bed as well as full size headboards, but the bed frame and mattress are not included."
10rate.com conducts reviews in various product and services categories and publishes "Expert Top 10 Lists for Everything in your life." The company's web site strives to "Make it Easy" to select from the hundreds of choices there are in the product and service market place. All products and services are thoroughly researched by the companies expert editors prior to receiving a rating on a 1-10 scale. In addition to product reviews the companies editors write guidelines, buying guides and articles on various topics surrounding each product or service category covered to help educate the consumer.