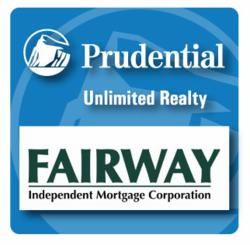 We hope to bring together a diverse group with similar focus on relationships, technology, and product knowledge as well as a shared business philosophy created around the client.

- Jon Ufland
Brookline, MA (PRWEB) August 14, 2012
Fairway Independent Mortgage, lead by Branch Manager David "Laz" Lazowski, provides financial solutions for professionals, their clients, individuals and families to assist in accomplishing their mortgage goals. This partnership gives Prudential Unlimited Realty's clients the security and diversity needed to handle the intricacies of the mortgage process. Fairway's "Prudential Unlimited Team" currently includes Craig Barber, Senior Mortgage Advisor: Nancy Abbott, Mortgage Advisor: Jarred Alexandrov, Director of Marketing & Loan Coordinator: and Jen Peil, Loan Officer Assistant.
Both Jon Ufland, Managing Broker at Prudential Unlimited and Mr. Lazowski hope to provide a client focused environment with various lender options and loan types to cater to the clients individual needs. This type of flexibility and customer service stands at the fore-front of both business models, along with similar views on professional relationships, technology, and product knowledge. Additionally, with 3 members of the Fairway team currently living in Brookline, community knowledge and experience only strengthens this partnership.
For updates on how this relationship is already helping our Brookline, Jamaica Plain and Greater Boston community through on-going programs like our First time Home Buyer Seminars and other various online resources, please visit us at: http://www.PrudentialUnlimited.com and http://www.FairwayBoston.com.
Prudential Unlimited Realty is an independently owned franchisee of Brookfield Residential Property Services (BRPS) specializing in full-service real estate with offices in Brookline and Jamaica Plain, MA. Prudential Unlimited Realty builds clients for life by offering a first-class rental department, professional property management, expert listing advice and home selling results.
Contact Us Today!
Prudential Unlimited Realty is BrooklineRealEstate.com
Brookline : 1290A Beacon Street, Brookline, MA 02446 : Tel: 617-264-7900
Jamaica Plain: 673 Centre Street, Jamaica Plain, MA 02130 :Tel: 617-522-2200