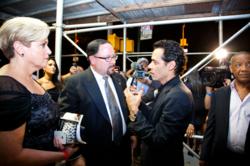 "I have been granted the privilege to be the voice for these kids and they need all the support in the world. We are looking forward to having full participation from the philanthropic community in an effort to grant them a better tomorrow," said Anthony.
Chicago, IL (PRWEB) August 14, 2012
Global pop icon Marc Anthony and entrepreneur Henry Cardenas, President/CEO of Cardenas Marketing Network (CMN), are set to host a fundraiser in Chicago on Monday, August 20 at the Sofitel Water Tower beginning at 7:30 p.m. The event will benefit the Maestro Cares Foundation, a non-profit organization established by Anthony and Cardenas earlier this year to benefit charitable organizations in developing Latin American countries. Maestro Cares seeks to offer assistance to orphaned and disadvantaged children while supporting social services and other development programs.
The Chicago event hopes to raise funds for the completion of a new residence hall and learning facility for over 200 children living at Orfanato Niños de Cristo, an orphanage in the Dominican Republic. The orphanage will be the first territory to directly benefit from the Maestro Cares Foundation.
"I have been granted the privilege to be the voice for these kids and they need all the support in the world. We are looking forward to having full participation from the philanthropic community in an effort to grant them a better tomorrow," said Anthony, whose Chicago visit coincides with his international tour GIGANT3S, which stops at the Allstate Arena on Sunday, August 19 (7:00 pm).
The fundraiser will consist of a cocktail reception and a silent auction featuring sports and entertainment memorabilia including a signed guitar by rock band Mana, a signed microphone by Marc Anthony, a signed Lionel Messi / Argentina National Team jersey, as well as signed items from the Chicago Cubs, Chicago White Sox, Chicago Blackhawks and other organizations. All proceeds from the auction will benefit the Dominican Republic project.
"We want to give these children the tools they need to be productive and to have a fulfilling life," said Cardenas. "Hope is one of the greatest gifts one can give and receive."
NOTE: Media interested in covering the event must RSVP by Thursday, August 16 at 5:00 p.m. at dlopez(at)maestrocares(dot)org or by calling 312-731-8136.
To purchase tickets to the fundraiser or to learn more about the Maestro Cares Foundation, visit maestrocares.org or follow Maestro Cares on Twitter @MaestroCares and via Facebook at http://www.facebook.com/MaestroCaresFoundation.
"The creation of Maestro Cares is a testimony to the wonderful spirit of Mr. Anthony and Mr. Cardenas," said Sonia Hane, Founder of the Orfanato Niños de Cristo. "The commitment of these gentlemen is an inspiration to us, and I am confident that the impact of Maestro Cares will be felt by the children in this country for many years to come."
ABOUT MAESTRO CARES
Maestro Cares (MC) is a 501(c) non-for-profit corporation established to support the overall well being of disadvantaged children in developing Latin American countries. Through contributions of its founders, entrepreneur Henry Cardenas and global artist Marc Anthony, as well as donations from individuals and corporations, Maestro Cares provides children with housing, food, and other basic needs while assisting with their academic and recreational development through various programs.
ABOUT MARC ANTHONY
Marc Anthony has sold over 12 million albums worldwide, making him one of the most influential artists of his time and a true ambassador of Latin music and culture. He has been awarded countless Standard gold and platinum certifications from the Recording Industry Association of America (RIAA). His influence was significantly recognized when he was included in the Top 10 List of influential New Yorkers compiled by New York Magazine. The Miami Dolphins minority owner, who has also established a highly credible acting résumé, was recognized with a Lifetime Achievement Award by the Congressional Hispanic Caucus Institute in Washington D.C. in September 2009. In 2011 he embarked on a world tour and returned to the hit TV series HawthoRNe (TNT) while also launching his new clothing and accessories line at Kohl's. For more information on Marc Anthony, please visit http://www.marcanthonyonline.com.
ABOUT HENRY CARDENAS
Henry Cardenas has spent the last 30 years managing and producing some of the biggest live entertainment acts in the U.S. and across Latin America. He co-founded CMN in September 2002 and leads an award-winning team that has orchestrated brand-building consumer campaigns for corporate giants including Anheuser-Busch, Wm. Wrigley Jr. Company, H&R Block, and Verizon, among others. CMN has impacted the event marketing industry by incorporating the passion points of consumers into innovative programs for brands worldwide. In 2010 his CMN Sports division entered an unprecedented partnership with the Asociación del Fútbol Argentino (AFA), granting CMN Sports exclusive rights to organize matches for two-time FIFA World Cup Champion Argentina, featuring FIFA Player of the Year Lionel Messi.
MaestroCares.org