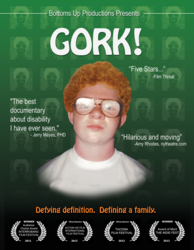 Our goal was to make a very honest, uncensored film about one family's experience with disability, embracing both the comedy and the complicated emotions that come along with that.
Los Angeles, CA (PRWEB) August 15, 2012
GORK!, the entertaining, poignant and provocative documentary directed by Devon Terrill, has been accepted as an Official Selection of the 2012 AOF International Film Festival. Produced by Devon with her sister Autumn Terrill, GORK! focuses on their charismatic younger brother Adam, his complex mix of developmental disabilities, and his impact on the dynamic of his 7-member family.
The GORK! screening will take place Sunday, August 19, at 5pm at the beautiful Krikorian Theater Monrovia 410 S. Myrtle Ave Monrovia CA 91016. Tickets may be purchased in advance by clicking HERE. Popular demand has led to encore screenings of the film at past fests such as the Landlocked Film Festival; as such, additional screenings may be added to the AOF schedule.
The film won the Audience Award at the 2011 Interrobang Film Festival, and after it screened at the Landlocked Film Festival, organizers held an encore screening to accommodate overflow crowds. GORK! was shown at the Logan Film Festival in April, and on the heels of the AOF Festival in August, the film next screens at the Tacoma Film Festival in October 2012.
One of the nation's fastest-growing film festivals, AOF is an incredible event featuring films and videos from around the world including Canada, Australia, England, Africa, Thailand, Germany, Sweden, Japan, China, Russia, Italy, Spain, and of course, the U.S.
"I'm thrilled to have GORK! play at AOF. The festival organizers have been so enthusiastic and supportive, and they really seem to connect with the spirit of the film," said Devon Terrill. "Our goal was to make a very honest, uncensored film about one family's experience with disability, embracing both the comedy and the complicated emotions that come along with that."
Indeed, while GORK! has received high praise from disabilities advocates (Jerry Mayes, PhD, calls it "The best documentary about disability I have ever seen."), parents are embracing the movie for its frankness and insight into family dynamics in general. "This movie is absolutely amazing," says one mother of two who attended a recent screening of the film. "So candid and moving. It really puts things into perspective from a parent/family point of view. I say share it everywhere."
That parent's wish may soon be granted: GORK! is set for a DVD release in October 2012.
About GORK!
Tracing Adam's early years, through his high school graduation, to his present-day life in a group home, GORK! focuses in particular on the relationship between Adam and his sister, Autumn, whose life path is unmistakably influenced by her close bond with Adam. As part of the documentary project, Autumn's solo stage play (also called "GORK!" and which The New York Times described as "lovingly crafted" with the tone of "a late-night bull session in the family den") was filmed in front of a live audience and is featured in the documentary. The film explores the daily life of Adam and further elaborates on the comedy and conflict arising from his uninhibited and flamboyant approach to life in "our" world.
About AOF (Action on Film)
The AOF Festival is one of the fastest growing, high profile international affairs in the film and video industry today. With meager roots it has grown to an epic size by the virtue of its loyal following of filmmakers and writers who understand the value of being associated with an event that appreciates and supports their work. The fest has received tremendous celebrity and industry support and been able to launch the AOF Channel, a weekly television series which showcases the talents of AOF filmmakers and allows them to be introduced to the world via traditional broadcast models.
For more information about AOF, please visit http://www.aoffest.com or call 626.325.3406. For tickets to GORK!, visit: http://tinyurl.com/93pd6h8