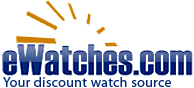 Our long-standing partnership with eWatches allows us to offer their customers our extraordinary brand at a price that is exceptionally attractive...
Hollywood, FL (PRWEB) August 15, 2012
eWatches, a leading internet retailer of discount designer watches, announced this week the launch of their fall 2012 collection of Swiss Legend watches. The company will being running various sales events to promote the collection throughout the season and expects to see healthy sales of the brand across the board.
"Our long-standing partnership with eWatches allows us to offer their customers our extraordinary brand at a price that is exceptionally attractive," said Lior Ben-Shmuel, President/CEO, Swiss Legend. "We take a great deal of pride in each and every timepiece we design and manufacture, and eWatches understands and communicates this very effectively to their loyal customer base and beyond," he continued. "It is this sort of passion and commitment to our partnership that proliferates our brand more effectively and allows us to offer Swiss Legend watches through eWatches at prices lower than any other retailer."
At the core of the Swiss Legend philosophy is "a commitment to stylish, distinctive timepieces that harmoniously balance cutting-edge style with Old World precision and accuracy." Swiss Legend watch designers pay meticulous attention to each detail when developing their timepieces, keeping the end user in mind first and foremost.
"During the creative design process, I focus on fusing style, form and function to achieve a unique visual identity within each watch collection that is cost effective for the consumer," said Jose Alfonso, Lead Industrial Designer, Swiss Legend. The brand offers over 2,000 combinations of styles, materials and functions—all with Swiss-made movements—making it a comprehensive offering from which every watch enthusiast can choose their ideal timepiece at the most competitive price.
"We're extremely excited about the new fall collection of Swiss Legend watches," said Russell Ackner, VP of Marketing, The SWI Group. "We have a fantastic relationship with Swiss Legend, and their watches have become some of our most popular--it's a 'win-win' situation." The fall 2012 Swiss Legend lineup of watches for men and women will include such attractive, durable timepieces as the sleek Super Shield three hand watch for men and the Endurance chronograph watch.
eWatches will feature the fall collection of Swiss Legend watches at up to 90% off manufacturer suggested retail price (MSRP). eWatches will also be spotlighting new arrivals for fall in mens watches and womens watches from other popular brands such as Glam Rock watches, Lucien Piccard, Skagen watches, Bulova, Swiss Army watches and more.
About eWatches.
eWatches.com is an award-winning internet retailer of brand-name watches serving tens of thousands of satisfied customers since the company's inception in 2003. In both 2007 and 2008, Inc. Magazine selected eWatches.com as one of 'America's 500 Fastest Growing Companies' in its annual Inc. 500 list. eWatches provides a superior shopping experience to its customers with:

Free Shipping on all domestic orders
100% Satisfaction Guarantee
Low Price Guarantee
30 Day Money Back Guarantee
To get the 411 follow eWatches on Facebook and Twitter at 'ewatchescom'.