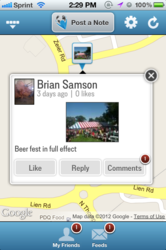 GeoCrowd - Pictures with a Purpose
(PRWEB) August 15, 2012
GeoCrowd is a new social networking app that people use to share their pictures and location with their closest friends and family. Current social networks fail to connect people in a meaningful way due to the fact that you never really know where they are in real time. With GeoCrowd, users can log in and view the current location and status update of their friends who choose to share information with them.
Some examples of using GeoCrowd to connect with friends:
1. Bored at home on Saturday night – flip to GeoCrowd to scroll though thumbnail photo postings on the map of my friends. There's a pop up party at Angie's!!
2. Just got a push notice with a photo through GeoCrowd from Bill. He's at a crazy, local parade downtown. I'll meet him in minutes through his map posts to me.
3. Someone named Chris is in England for the Olympics. Very cool photos on the map of fun scenes on GeoCrowd's public posts, an alternative feed shared with all GeoCrowd users.
4. Chris' posts are great. I not only can rate her with "Likes," I can "friend request" her too.
5. Using GeoCrowd's ability to post 3 photos at once, Bill just sent some neat photos of a funnel cloud forming. I see right where it's at – in real time!!
Posting on GeoCrowd also supports a real cause. GeoCrowd is the "engine" which powers mobile technology relief upon for six years for disaster response teams for the Pathfinders Task Force (PTF). PTF is supported by the Eagles' Wings Foundation, a pubic foundation with no employees, dedicated to helping survivors help themselves. PTF personnel rely on local volunteer after a disaster, and use this GeoCrowd engine to document the needs of homebound survivors. This technology is designed to work in a 100% disconnected environment, and by using GeoCrowd, you are helping stress-test this system so it can work when it is needed most.
Privacy: GeoCrowd is not like "Check-In" apps which let other people (not even friends with you) view your location information. GeoCrowd only displays your location and notes with users you have approved, and does not release any data to third party organizations. This ensures that information posted with GeoCrowd stays in GeoCrowd, and nobody that you haven't approved will see your information.
GeoCrowd is available now as a free download on the iTunes and Android marketplaces.