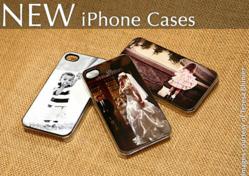 "Custom iPhone cases are a tremendous product for the professional photographer to offer their clients," says David Williams, General Manager for Black River Imaging, "They have many uses including but not limited to Thank You gifts, marketing pieces, and
(PRWEB) August 15, 2012
Black River Imaging, a professional imaging lab for professional photographers, adds custom iPhone cases to its product line up.
"Custom iPhone cases are a tremendous product for the professional photographer to offer their clients," says David Williams, General Manager for Black River Imaging, "They have many uses including but not limited to Thank You gifts, marketing pieces, and add on sales"
Today, phones are used for everything from searching the internet, playing games, taking photos, and even talking on them. Why not enhance an iPhone with a beautiful image!
Black River Imaging's custom iPhone 4/4S case displays a image on a vibrant metal print. These make great gifts for clients or can be included in the professional photographers top sales packages or à la carte items. They also work great as a marketing tool. Every time Grandma whips out her phone to show off her little ones she's also promoting the amazing professional photographer who creates great images and offers all the hot photo products..
Black River Imaging helps professional photographers and those who love photography bring their creativity to life in hand made photo albums, professional photo printing, press printing, gallery wraps, metal prints, and other beautifully crafted photographic products. You can learn more about their products and services at http://www.blackriverimaging.com.
# # #