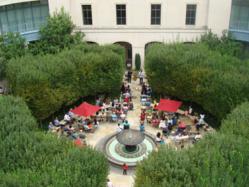 Nashville, TN (PRWEB) August 15, 2012
Nashville Public Library had a record breaking attendance with over 700 attend The WannaBeatles for the kickoff of the Courtyard Concerts. The crowd consisted of downtown employees, moms with kids, seniors and more.
The series will continue thru Oct. 9 at the downtown branch on 615 Church Street. The concerts are free and open to the public during the lunch hour every Tuesday. Listed below is a diverse lineup, including Rachel Rodriguez who will perform as part of Hispanic Heritage Month. If interested in interviewing any of the bands, please contact renuka.christoph@nashville.gov.
2012 LIBRARY COURTYARD CONCERT SCHEDULE
Tuesdays - 8/14 to 10/9 - 11:45 a.m. to 1:00 p.m.
Please note: subject to change
August 21 -- Nick Nixon
Blues
August 28 -- The Gypsy Hombres
Gypsy Jazz/ Swing
September 4 -- Radio Daze
Big Band/Dance
September 11 -- Riders in the Sky
America's Favorite Cowboys
September 18 -- Sara Sant'Ambrogio
Classical Cellist
September 25 -- The SteelDrivers
Bluegrass
October 2 -- Rachel Rodriguez
Latin
October 9 -- Jason D. Williams
Rockabilly
Courtyard Concerts is made possible by The Nashville Public Library Foundation. For more information, visit http://nashvillepubliclibrary.org/courtyardconcerts/
###