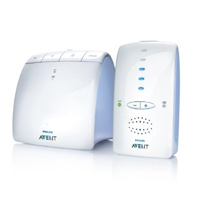 Atlanta, Georgia (PRWEB) August 28, 2012
Expert 10rate editors have chosen the Best Baby Monitors Review in their latest Top 10 list in the baby/kids arena. Baby Monitors are an important part of maintaining sanity for some parents. They can also be helpful when leaving a newborn baby alone for the first few times. A baby monitor is all about reassurance and safety. They come loaded with all sorts of features now, and 10rate editors are here to narrow down the choices. Some other criteria editors used for compiling the list were:
1. Wide range
2. Secure, interference-free channels
3. Clear reception
4. Low battery/out of range indicators
5. Ample battery life
6. Minimal static
7. Two-way audio communication
8. Adjustable volume and sensitivity
9. Bonuses like nightlight, camera, or lullabies
According to the top 10 list, two of the best baby monitors currently available in store and online are the Motorola Baby Monitor Review and Philips Avent Baby Monitor Revew. Concerning the Motorola baby monitor, reviewers stated that, "Parents will appreciate the peace of mind that comes with this digital video baby monitor from Motorola. The model offers three screen sizes; the medium one, at 2.8 inches, runs at $169.90, and is large and clear enough to give you a good view of your infant. The monitor offers a crisp picture resolution, even in the dark with infrared night vision."
When reviewing the Philips baby monitor, editors said,"A sleek baby monitor from Philips, this Avent device lets you hear the slightest cooing and breathing from your infant. If you prefer, you can turn down the volume and still detect noises from the nursery thanks to the LED light indicator. With DECT technology, the sound is crystal clear and highly sensitive; with over 100 channels, you won't have to worry about interference from cell phones."
10rate.com conducts reviews in various product and services categories and publishes "Expert Top 10 Lists for Everything in your life." The company's web site strives to "Make it Easy" to select from the hundreds of choices there are in the product and service market place. All products and services are thoroughly researched by the companies expert editors prior to receiving a rating on a 1-10 scale. In addition to product reviews the companies editors write guidelines, buying guides and articles on various topics surrounding each product or service category covered to help educate the consumer.