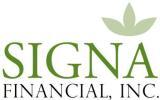 I am passionate about helping small businesses grow and overcome obstacles to achieving success," says Ramsey.
San Francisco, California (PRWEB) August 16, 2012
Charles ("Chuck") Ramsey has joined Signa Financial as SBA Director. Chuck is well versed in traditional lending as well as small business loans, with more than 30 years of experience. Not only has he worked at the U.S. Small Business Administration as a loan specialist, he also worked with a number of banks handling all aspects of loan underwriting, credit analysis, packaging, servicing and commercial lending.
Ramsey has served at such institutions as Bank of America for more than a decade, Wachovia, Exchange Bank, First Community Bank of Santa Rosa and Greater Bay Bank.
Chuck cares about communities, and has proven this through serving as an active community leader. He organized a community group for local business chambers to interface with county government officials; organized a group to revitalize the Monte Rio downtown area to promote a safe environment; and led a revitalization effort on Sacramento's Broadway commercial corridor.
Terry Robinson, President of Signa Financial, says, "Chuck is a great asset for our small business clients who need an SBA loan. He understands what will work and what won't, and can help small business owners in a meaningful way. Our goal at Signa is to rebuild the American economy, one business and one loan at a time."
Signa Financial offers SBA services to lenders and to small businesses. The Founder and CEO, Mark Huddleston, shares the Signa motto:
Doing the right things for the right reasons for a better future, Signa helps small businesses and banks thrive.