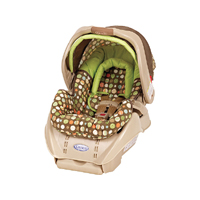 Atlanta, Georgia (PRWEB) August 29, 2012
Expert 10rate editors have chosen the Best Baby Car Seats Reviews in their latest Top 10 list in the baby/kids arena. Parents looking for a safe infant car seat have the daunting task of wading through dozens of brands and models to find a seat right for their babies or small children. Factors like portability, lightweight, and comfort for the child come into play for parents when making a final decision. Some other criteria editors used for compiling the list were:
1. Endorsements and certifications from the government and consumer advocate groups
2. Well-made car seats that have withstood the test of time, with no recalls
3. Seats that are light enough to tote around without pulling your arm out of the socket
4. Ergonomically designed car seats with handles easy to grip without twisting the arm
5. Seats that can readily convert from rear-facing to forward-facing
6. Affordable car seats for families on a budget
7. Units with easy-to-follow installation instructions and diagrams
8. Seats that can extend to accommodate taller children
9. Extra foam padding to provide more protection in an accident
According to the top 10 list, two of the best baby car seats currently available in store and online are the Comfy Carry Elite Plus Review and Graco Snug Ride Revew. Concerning the Comfy Carry Elite baby car seat, reviewers stated that, "Parents on a budget can find an economical car seat in the Safety 1st Comfy Carry Elite Plus. This rear-facing model holds infants four to 22 pounds in weight and as tall as 29 inches. It features an adjustable infant insert for really tiny babies and an adjustable up-front five-point safety harness. The canopy is also adjustable and it has a base that can stay in the back seat until you're ready to drop the car seat on it, buckle up and go."
When reviewing the Graco Snug Ride baby car seat, editors said,"Graco has already made a name for itself for its other baby care products, including strollers, travel systems, play yards, swings, high chairs and baby monitors, so moms can go on an established track record when comparing the basic Graco SnugRide to other infant car seats. This rear-facing car seat is designed for babies weighing five to 22 pounds and less than 29 inches tall."
10rate.com conducts reviews in various product and services categories and publishes "Expert Top 10 Lists for Everything in your life." The company's web site strives to "Make it Easy" to select from the hundreds of choices there are in the product and service market place. All products and services are thoroughly researched by the companies expert editors prior to receiving a rating on a 1-10 scale. In addition to product reviews the companies editors write guidelines, buying guides and articles on various topics surrounding each product or service category covered to help educate the consumer.