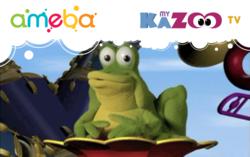 We like the way Ameba delivers content to families in such an effortless way. It's a great way to introduce myKaZootv content to more kids and parents. — Richard Ellis, myKaZootv co-founder
Winnipeg, Canada (PRWEB) August 15, 2012
Aiming to boost exposure and revenues for its educational music videos for children, myKaZootv has officially joined forces with Ameba (http://www.amebatv.com), one of the fastest-growing multi-platform kids' streaming TV leaders on the market today.
myKaZootv, an emerging online children's music video channel, today announced the promising content distribution alliance with Ameba as part of its mission to reach new audiences for family-friendly music on as many digital platforms possible.
"We're excited to partner with Ameba, and to provide some of the best artist-driven music content created just for children," says Richard Ellis, a former record label executive and music marketing expert. Ellis co-founded MyKaZootv last year with Rick Dobbis, former President of Sony Music International. "We like the way Ameba delivers content to families in such an effortless way. It's a great way to introduce myKaZootv content to more kids and parents."
"Ameba and myKaZootv are working together to shape the children's streaming TV landscape by delivering fun, truly engaging children's music videos to kids across today's most popular viewing platforms," says Ameba founder and CEO Tony Havelka. "So, no matter where children choose to watch their videos — via TV, smartphone, laptop, or tablet — today's most positive and upbeat kids' music videos will be at their fingertips wherever they go. With Ameba, myKaZootv instantly expands their audience to 5 million internet-connected devices and climbing. Children gain anytime, anywhere exposure to enriching music videos. It's win-win all around."
Ameba subscribers can now watch several myKaZootv music videos on all of Ameba's viewing platforms, including on the web, Google TV, Roku, and LG Smart TV. myKaZootv's videos on Ameba feature Grammy-nominated and popular children's music artists, like Brady Rymer, the Dream Jam Band, Hey Wordy, Farmer Jason, Nonsense Box, Randy Kaplan, Zak Morgan, and Juno Jr.
Ameba is a one-stop digital distribution solution that makes it fast and easy for children's programming content providers and distributors to instantly: transcode and upload their videos to today's hottest digital platforms; gain valuable mass audience exposure throughout the U.S. and Canada; and generate royalty-based revenues for their content.
Ameba's massive content library delivers thousands of hours of educational, preschool, musical, and multilingual programming to kids ages 2 to 12. For $3.99 per month, Ameba subscribers get unlimited, 24/7 instant access to a rich variety of fun, age-appropriate children's TV shows.
Press Contacts:
Ameba: Kim Lachance Shandrow, 562-972-3956, kim(at)amebatv(dot)com
myKaZootv: Beth Blenz-Clucas, 503-293-9498, beth(at)sugarmountainpr(dot)com