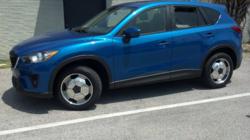 (PRWEB) August 16, 2012
Full Moon Wheels announced that The Header, the startup company's unique and beautiful soccer ball wheel, can be purchased nationwide by soccer fans and auto enthusiasts who want to dress up their car.
Dan Bell, president of Full Moon Wheels, said that The Header's design captures the simplicity and elegance of the traditional black and white soccer ball.
"We wanted to create a choice for everyone who buys wheels to accessorize their ride," Bell said. "Everything else is mostly about spokes. Our wheel stands out because it is both beautiful and different.'
The wheel comes in polished aluminum or glossy black with a red trim in either for 18 and 20-inch wheels. Additional sizes and designs will be added as the wheel's popularity grows.
The wheel's appeal already goes beyond soccer. Bell said that Maxx2Racing Team selected the black version for its 2012 show car which will debut at SEMA 2012, the largest automotive accessory show in the World. In announcing the selection Maxx2 said that the wheel "… adds to the look of the car, something we call the Gnarly Look."
The Header can be purchased direct from Full Moon Wheels or from certain wheels dealers and soccer supply stores. Each wheel is made in Taiwan from Dubai aluminum and comes with a 5-year manufacturer's limited warranty on structure and a 1-year limited warranty on paint.
Full Moon Wheels is located in Kure Beach, North Carolina. For more information about The Header contact dan(at)fullmoonwheels(dot)com or 910-515-5116. Check us out at http://www.fullmoonwheels.com and at http://www.facebook.com/rinbalon and http://www.facebook.com/fullmoonwheels .