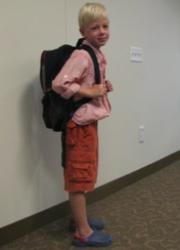 While backpacks are often considered a fashion statement, students need to make sure that their backpack makes the grade.
Oak Brook, IL (PRWEB) August 15, 2012
As kids get ready to head back to school this year, many will load up backpacks, join school sports teams and engage in new activities after months of summer vacation, making them more prone to injury. The physical therapists with Athletico offer the following tips to help keep kids safe and healthy this school season.

Backpacks – While backpacks are often considered a fashion statement, students need to make sure that their backpack makes the grade by:
Wearing both straps. Using one strap causes one side of the body to bear the weight of the backpack, causing strain on the back.
Carrying only what they need. Students should only carry up to 15% of their body weight.
Loading it correctly. Put the heaviest items closest to the back and arrange them so they won't slide.
Concussions – Starting the school year may mean joining the starting line. Every coach, parent and athlete should know the facts about head injuries.
There is no such thing as a minor head injury. No matter the severity of the injury, all should be checked by a medical professional. Athletico's athletic trainers are specialists when it comes to concussions, trained on the latest concussion evaluation tests and return-to-play guidelines.
Symptoms are not always as they seem. They can be as subtle as a headache or feeling sluggish, not just the telltale signs of dizziness or loss of consciousness.
Timing is everything. Symptoms may not surface until 48 to 72 hours after an injury. Any athlete who sustains a head injury should not return to play until cleared by a licensed healthcare provider.
Activity – Students should stay active, even if they aren't on the varsity team. Whether it's taking a part in the school play, walking to school instead of taking the bus or just playing on the playground, keeping active is critical to good health. Other key tips include keeping backs straight while sitting in class and taking breaks during long study sessions by getting up and walking around.
Stretching – Stretching is critical for safe training in sports, but it also helps maintain general flexibility for daily activities. Students should warm up before activity and stretch after the big game or study session. Stretches should be in a pain-free range and slow and controlled.
For any aches or pains check out a nearby Athletico facility for a complimentary screening where a licensed physical therapist, occupational therapist, or athletic trainer can help anyone living with pain decide the appropriate next steps. To find the nearest location or more information, visit http://www.athletico.com.
ABOUT ATHLETICO PHYSICAL THERAPY
Athletico Physical Therapy provides orthopedic rehabilitation services to communities and organizations throughout Illinois, Milwaukee, and Northwest Indiana. To demonstrate our commitment to both our patients and referring physicians, we measure functional patient outcomes and patient satisfaction with national data comparison using a third-party outcomes system.
Our services include physical and occupational/hand therapy, work rehabilitation, performing arts rehabilitation, women's health therapy, spine control classes, pediatric physical therapy, vestibular rehabilitation, and athletic training. Expanded services include performance enhancement, fitness center memberships, golf fitness, endurance, nutrition, and massage therapy.
Athletico accepts all indemnity, PPO, POS, and WC plans including BC/BS, Humana, Medicare, Aetna (PPO/HMO), PHCS, UHC (PPO.HMO) and many others. As a courtesy to our patients, we verify insurance coverage.
Athletico Toll-Free Injury Hotline 877-ATHLETICO (1-877-284-5384), http://www.athletico.com