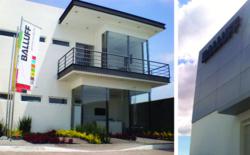 With the commitment of our people and working together, we have established the status of worldwide leader in integrated solutions, with innovative ideas for our customer's automation processes.
(PRWEB) August 20, 2012
Balluff México recently opened its new corporate office in Querétaro, complete with a new world class training facility, technical support lab, and warehouse.
Balluff México has created a significant number of jobs in the past few years (63 trainees, 105 outsourced jobs, and 64 direct jobs). With the increase in employees and the need for expanded inventory, Balluff México invested in this new state-of-the-art facility, which more than doubled their original office and warehouse space.
An official ribbon cutting ceremony took place on July 27, 2012 with Balluff's board of directors and other distinguished guests, including the CEO and founders of Balluff GmbH. Antonio Mendoza, General Manager of Balluff México, mentioned that team work, fellowship and confidence are some of the strengths that have positioned the company as one of the best options in the automation market. Mendoza added, "With the commitment of our people and working together, we have established the status of worldwide leader in integrated solutions, with innovative ideas for our customer's automation processes."
The address for Balluff México's new corporate office:
Balluff México SA de CV
Anillo Vial II Fray Junípero Serra No. 4416
Colonia La Vista Residencial.
Querétaro, Qro.
CP 76232