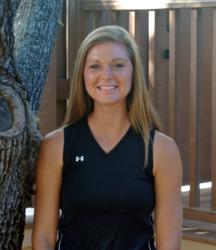 "There are so many pieces to the puzzle when it comes to what we eat, why we eat and how it affects our health."
Hilton Head Island, SC (PRWEB) August 17, 2012
Hilton Head Health, the nation's leading weight loss program and spa, has expanded its team with the addition of Lindsay Martin, RD. Martin joins the professional program staff at H3 as Wellness Coach and Dietician.
Her role at H3 includes providing initial one-on-one health consultations with new guests and H3@Home Coaching clients. She is also responsible for providing nutrition lectures and private consultations, as well as leading group fitness classes.
Martin's passion for nutrition developed when she personally experienced how her eating habits and mindfulness played a significant role in her collegiate athletics and overall health. According to Martin, "There are so many pieces to the puzzle when it comes to what we eat, why we eat and how it affects our health; having the opportunity to be at H3 as an additional resource is very exciting."
A graduate of Ball State University, Martin earned her bachelor's degree in Exercise Science and went on to obtain her master's degree in Dietetics. Martin started her career in health as a Program Intern at H3 in the summer of 2008. In addition to her internship at H3, Martin has acted as Graduate Assistant/Assistant Coach for Ball State University Men's Golf and has dietetic experience in working with the Dairy and Nutrition Council and Indiana University Health Goshen Hospital. She is also a member of the American Dietetic Association and ServSafe Certified.
About Hilton Head Health
For over 35 years, Hilton Head Health has been recognized as the premier weight loss and health retreat in the United States. Most recently, Hilton Head Health was featured on A&E's weight loss docudrama HEAVY, which aired in spring 2011. Voted as "Best for Weight Loss" for the past five consecutive years by SpaFinder and "Top 5 US Health Spas" by Lisa Drayer on the Today Show, Hilton Head Health is an exclusive resort delivering individualized experiences in the areas of Fitness, Nutrition and SELF (Stress management, Empowerment, Longevity, Fulfillment). For more information, please visit http://www.hhhealth.com or call 800-292-2440.