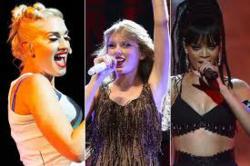 (PRWEB) August 16, 2012
Following up on the success of the festival's first appearance in 2011, the iHeartRadio Music Festival is set to return this year with a star-studded collection of some of the most popular performers on U.S. Radio. Once again hosted by the MGM Grand Garden Arena in Law Vegas.
Billed as the "biggest live music event in radio history," the iHeartRadio Music Festival is a concert hosted by iHeartRadio, an Internet music platform similar to services like Pandora and Spotify.
iHeartRadio's official website, http://www.iheart.com, allows users to stream content from more than 800 live radio stations broadcast around the United States. Users can also share music with their friends on social networks, and create personalized radio stations to listen to only the music they want to hear. iHeart.com currently offers more than 11 million songs and 400,000 artists on their streaming music network.
And a few of the most popular stars will be performing at the 2012 iHeartRadio Music Festival this year in Las Vegas, including Taylor Swift, Shakira, Aerosmith, Calvin Harris, Rihanna, Mary J. Blige, Usher, P!nk, Bon Jovi, Jason Aldean, Lil Wayne, Linkin Park, Swedish House Mafia, Enrique Iglesias, Brad Paisley, No Doubt, Miranda Lambert, Pitbull, and Deadmau5. As the event draws closer, Clear Channel Communications, the company that owns iHeart.com, plans to announce even more performers slated to make a possible appearance at the festival this year.
2012 iHeartRadio Music tickets as expected to sold out quickly. According to the LA Times, tickets for the 2011 festival sold out in a mere 10 minutes after becoming available last year, largely driven by top performers like Lady Gaga, Carrie Underwood, and the Black Eyed Peas.
Headline Tickets Now is one of the most popular secondary ticket websites on the Internet. They have affordable sports, theater, and concert tickets across the United States and Canada all without service fees. Headline Tickets Now is an accredited business with the Better Business Bureau (BBB) of Western Pennsylvania.