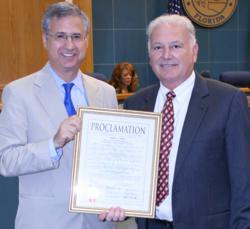 West Palm Beach, FL (PRWEB) August 15, 2012
The Palm Beach County Board of County Commissioners has proclaimed September 2012 as "Workforce Development Month" in Palm Beach County. County Commissioner Steven Abrams presented the official proclamation to Workforce Alliance President and Chief Executive Officer Steve Craig at today's commission meeting.
"Workforce Alliance is critical to connecting employers with the talent they need to compete in today's challenging economy," said Commissioner Abrams as he presented the proclamation. "We are pleased to recognize their vital role by proclaiming September as Workforce Development Month."
Mr. Craig said, "I would like to congratulate all Workforce Alliance staff members and our Board of Directors for their constant and dedicated efforts that resulted in 16,428 job placements in the county during the most recent program year, a record high for the second consecutive year. My congratulations and appreciation are also extended to our partners in the business, educational and governmental sectors who assisted in carrying out a multitude of workforce development initiatives throughout the year.
"It is gratifying to know that the leadership of the county recognizes the critical importance of providing a system that supports employers with the recruitment of highly qualified new employees and the securing of training funds to upgrade the skill sets of their existing employees, and provides job seekers with job search assistance, job and career training and referrals to job placements for which they are qualified."
Workforce Alliance is the non-profit organization chartered by the state to lead workforce development in Palm Beach County. It operates three full-service career centers that offer professional workforce services to all employers and job seekers in the county.
NOTE: A photo of Palm Beach County Commissioner Steven Abrams and Workforce Alliance President and CEO, Steve Craig, and a copy of the official Proclamation are attached to this release.
Contacts:
Patrick Cannan, Manager, Communications, 561.340.1060, ext. 2368 (cell: 561.452.0703)
Tom Veenstra, Director, Communications, 561.340.1061, ext. 2229