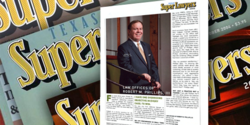 the most extraordinary result, other than a dismissal, our firm has ever achieved on a sexual assault case
Austin, Texas (PRWEB) August 16, 2012
Almost exactly three years from the date he was charged, a 28-year-old Travis County man finally emerged from the cloud of a sexual assault indictment in Travis County, with what Williamson County lawyer, Robert M. Phillips, called "the most extraordinary result, other than a dismissal, our firm has ever achieved on a sexual assault case."
The case (# D1DC-09-500490) involved what Phillips called "highly questionable allegations" of sexual assault, from an incident that occurred at an Austin restaurant/bar in the summer of 2009, and led to Phillips' client being accused of the second-degree felony, for which he was preparing to go to trial, until the settlement was proposed by the Travis County District Attorney's office, and accepted by Phillips' client.
"I believe my client would have prevailed in a jury trial, and we were prepared to go forward and seek a 'not-guilty verdict,' but I believe the young man made the right decision, given that all charges will ultimately be dismissed, upon successful completion of the one-year misdemeanor deferred adjudication probation," Phillips said.
Robert M. Phillips & Associates has been defending individuals accused of sexual assault, and sexual crimes against children, for more than 25 years in Williamson County, and Mr. Phillips is a Board Certified Criminal Law Specialist, with more than 250 jury trials in his career, and several thousand felony and misdemeanor dispositions. He is a former prosecutor in the Williamson County District Attorney's office, and in the Dallas County District Attorney's office, having reached the rank of Chief Felony Prosecutor in both offices, before launching his career in private practice in 1987.
Robert M. Phillips & Associates
401 W. Sixth Street
Georgetown, TX 78626