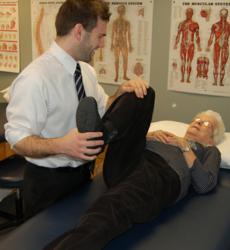 Conshohocken, PA (PRWEB) August 16, 2012
Conshohocken Physical Therapy is pleased to announce that Dr. Christopher Wickel has completed the challenging courses and exams to become a Certified Titleist Performance Institute (TPI) Medical Professional.
The Titleist Performance Institute has the largest collection of golf-specific health and fitness information from the world's leading experts in the game. They have developed and partnered with many of the world's top-ranked golfers with amazing results.
Dr. Wickel is a motion expert and specializes in the medical aspect of getting golfers ready for the course. He provides specialized therapeutic programs to his patients in order to get their bodies fit for the golf course. Several techniques can be utilized ranging from myofascial release to hands on treatment to specialized exercise routines.
Physical Therapists are motion experts.  They help improve or restore the mobility you need to move forward with your life.
Conshohocken Physical Therapy(CPT) is a private practice delivering high quality, evidence-based care to improve their patients' quality of life. They have been voted the "Best Physical Therapy Practice in Montgomery County, PA," multiple times. Owner, Dr. Desirea D. Caucci, PT, DPT, has been named one of the top 3 Physical Therapists in the nation by Advance Magazine (2008) and has been honored as the national winner of the Dorland Health People Award for Physical Therapy (2010). They have also created a breakthrough iPad application for pain prevention - "Motion Doctor". Their mission is to promote physical therapy on a grand scale and make a positive impact, both personally and therapeutically, on every person who enters their office. For more information please email bcaucci(at)conshypt(dot)com or visit http://www.ConshyPT.com.