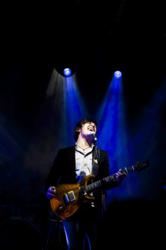 Sheboygan, WI (PRWEB) August 14, 2012
A wide range of music, headlined by Billboard chart topper Davy Knowles, is the focal point of Lakeland College's 2012-13 Krueger Fine Arts Series.
This season's four dates offer something for every music palate, including some acoustic and electric blues, a cappella voices, ancient sounds of Tibet and the talents of the college's own music faculty.
All performances are held in Lakeland's Bradley Theatre and begin at 7:30 p.m. Tickets for each performance are $15 for adults and $5 for non-Lakeland students. They can be purchase by contacting Deb Fale at (920) 565-1536 or faledj(at)lakeland(dot)edu.
Learn more about the series online at http://lakeland.edu/kfas.
Sept. 12 – Davy Knowles
The series gets off to a spirited start with talented 24-year-old singer/songwriter Davy Knowles.
Knowles has released two acclaimed top 3 Billboard Blues Chart albums – "Roll Away" and "Coming Up for Air," the latter produced by guitar legend Peter Frampton. Knowles has garnered glittering reviews playing more than 450 shows and touring with the likes of Jeff Beck, Warren Haynes and Gov't Mule and Sonny Landreth. He's played at the nation's biggest festivals including Bonnaroo, Lollapalooza and Austin City Limits.
Born on the Isle of Man, Knowles is currently recording new material in Northern England, and his love of blues and Americana will still be obvious in the new recordings.
"The first four years was a whirlwind," Knowles said. "It was a great learning curve putting in all those hours on the road. Lately I've taken time to explore and find a bit more of myself in my music. I'm really excited, and looking forward to getting back on the road with a good mix of the old and the new."
Learn more online at http://www.davyknowles.com/.
Sept. 27 – Lakeland Music Faculty Recital
It's a night for members of Lakeland's music faculty to display their own talents. The program will feature music by a wide range of composers performed by the college's music faculty.
Among those featured will be Arthur Johnson, Lakeland's associate professor of music and the college's pianist, performing Mozart's Piano Sonata in F Major. He will be joined by flautist Megan Pettitt, an adjunct instructor, for a duet. Olga Rua, also an adjunct instructor, will perform a piano duet with Johnson and piano music of Rachmaninoff.
Other faculty performances will be finalized closer to the concert.
Feb. 28 – Home Free
The award-winning a cappella sensation, Home Free, is a distinctive combination of comedy and music featuring five male vocalists (Matt Atwood, Adam Rupp, Rob Lundquist, Tim Foust, and Chris Rupp) with extensive theatrical and musical training. Each performance showcases a new, animated and electrifying experience that draws audiences in and leaves them amazed. With a genre of music that covers an expansive mix of pop, jazz, classical and country, all songs are done with only the human voice and microphones, resulting in a truly unique sound.
Home Free has performed for a diverse and extensive clientele, ranging from the Minnesota Vikings, to Fortune 500 companies, Celebrity and Norwegian Cruise Lines, Allied Concert touring services, the Dutton Family from America's Got Talent and many more. It also devotes it's time to educating and encouraging music in the public schools through innovative workshops and concert fundraising. To date, its programs have already raised tens of thousands of dollars for schools in Minnesota.
Learn more online at http://www.homefreevocalband.com/.
March 21 – The Mystical Arts of Tibet
The Mystical Arts of Tibet features the famed multiphonic singers of Drepung Loseling monastery. Endorsed by His Holiness the Dalai Lama as a means of promoting world peace and healing through sacred performing art, they have performed in many of America's greatest theaters and music halls.
On previous tours the monks have shared the stage with Philip Glass, Kitaro, Paul Simon, Sheryl Crow, Michael Stipe, Patti Smith, Natalie Merchant, the Beastie Boys, and many others. They have appeared in hundreds of university auditoriums, civic halls, festivals and churches across the country.
The Drepung Loseling monks are featured on the Golden Globe nominated soundtrack of the motion picture "Seven Years in Tibet" starring Brad Pitt. Two of the CDs by the Loseling multiphonic singers, "Sacred Tibetan Temple Music" and "Sacred Music Sacred Dance," achieved a top 10 listing on the U.S. new age charts.
Learn more online at http://www.mysticalartsoftibet.org/.
###