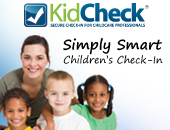 We are very pleased with KidCheck's extensive security features and comprehensive reporting capabilities," said Mark Pratt, Treasurer of the ENOUGH Programs. "The system is easy-to-use and has improved safety.
Boise, Idaho (PRWEB) August 16, 2012
KidCheck, Inc. has been chosen as the secure children's check-in solution for a unique Trolley program that provides the youth of Albany, New York with accessible, free transportation to organized after-school and summer activities. The program was created by Victory Christian Church and the Albany County District Attorney David Soares to help keep at-risk kids off the street and out of trouble. The program utilizes KidCheck to help streamline the process and keep the children safe.
Getting large groups of children to the sponsored activities and associated locations in an organized, track able and safe manner presented Victory Christian Church with a challenge. Therefore, they choose KidCheck's easy-to-use, secure children's check-in solution to help keep the children safe and better track them both on the trolleys, as well as at the associated locations.
"We are very pleased with KidCheck's extensive security features and comprehensive reporting capabilities," said Mark Pratt, Treasurer of the ENOUGH Programs. "The system is easy-to-use, has improved safety and allows me to both quickly access information for a child in our care if needed, and report on activity and attendance to understand rations and trends".
Pratt continues, "Not only is KidCheck service and support readily available to assist should a question arises, they went the extra mile to build some additional functionality into the system specifically to meet our unique needs."
"We are excited to be involved in such an inspiring program as the Enough Trolley program," said Alex Smith CEO KidCheck. "They are certainly making a difference for the youth and the community in Albany, and we're honored to be a part of it."
The Solution
Children participating in the trolley program use KidCheck's youth self check-in cards, which have a unique security barcode generated by the KidCheck system, to quickly, easily and safely check themselves on and off the trolley, as well as in to and out of the activity locations. Each trolley is equipped with a wireless laptop loaded with the KidCheck program and a barcode scanner. The barcode on each child's card is scanned whenever they board or exit the trolley. This creates a unique check-in record providing real-time information for the church, as well as comprehensive reporting capabilities.
The self check-in cards contain no personal information beyond the child's name, medical/allergy alerts, their photo and the name and phone number of the ENOUGH Program. Once a child is checked-in with their unique barcode, the trolley staff has access to any needed information to ensure the safety of the children in their care.
Pertinent information for each child, such as adult contact information, authorized and unauthorized guardians and any needed medical or allergy alerts, is generated from the free KidCheck account created and maintained by the child's parent or guardian. For additional peace-of-mind and to help with overall communication, parents that have enabled text messaging notifications will receive an automatic text message each time their child checks-in or out of the trolley or activity location.
The Enough Program
The trolley initiative is associated with the Enough anti-violence program developed by Pastor Charlie Muller from Victory Christian Church, in conjunction with the Albany County District Attorney David Soares. The Enough programs was designed to build positive, anti-violence youth programs and includes the trolley program, getting guns off the street, food programs, organizing events where children can play safely and more. Victory Christian Church is a non-denominational Christian Church located in Albany, New York with a mission to be active in the community and build positive programs for kids in the inner-city.
About KidCheck
KidCheck, Inc. provides secure, web based children's check-in software and complete check-in station solutions for churches and child care professionals. KidCheck is committed to delivering easy-to-use, reliable and secure check-in systems backed by expert, personal service and support. To learn more or to sign up for a demo visit http://www.kidcheck.com.