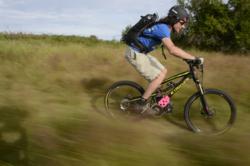 You can ride on your own power or use the pedal-assist for extra help up the steepest, gnarliest slopes.
Whistler, BC (PRWEB) August 15, 2012
Kranked is excited to announce the first official demonstration of its ERIDES  Adventure Tours at 'Crankworx Whistler', August 11-19, 2012. Kranked ERIDES showcase long-awaited electric boost technology and open up the back country to mountain bikers like never before.
Kranked has been testing the cutting-edge eco-friendly technology for the better part of a year, pushing their ERIDES to the limits and beyond on some of the steepest and gnarliest slopes in BC, Washington, Oregon and California. The Kranked team has been making sure the ERIDES will stand up to the beating they'll get from the hardcore mountain bikers who are anticipated to be the early adopters of this technology.
"All the riders we've taken out on the ERIDES have called the experience one of the most awesome rides they've ever had," says Kranked founder Bjørn Enga. "Once they experience the thrill of having an on-demand boost option that lets you ride faster, with less heavy exertion, they get hooked, just like I am!"
Enga says that riders of all skill levels have given the company extremely positive feedback about the ERIDES experience, validating the passion that drives the Kranked ERIDES team.
"Today's high-end mountain bike is an amazing, high-performance machine that allows skilled riders to experience the thrill of travelling through the forest at speed. Add a mid-mounted electric-assist power plant and you have an electrifying experience!" Enga says.
The electric boost doesn't dominate the ride experience but is there to give riders an added "kick" up the hill only when they need it. "You can ride on your own power or use the pedal-assist for extra help up the steepest, gnarliest slopes—it's up to you," Enga says.
He points out that this eco-friendly technology is perfect for group adventure tours as riders of different skill levels can stay together with no rider being left behind.
"We expect that families or groups of friends looking to share a high-adrenaline experience will jump at the chance to ride our ERIDES to remote locations few people have ever been," he says.
Kranked is a BC-based company that makes mountain bikes and gear for the mass market, as well as award-winning freeride films through its media arm, Radical Films. Kranked bikes and gear are available through its online store, krankedbikes.com/store, as well as in Canadian Tire stores across Canada.
Look for the Kranked ERIDES booth at Crankworx Whistler in the team demo area, Day Lot 2 at Whistler Village.
Contact Information:
Erin Whalen, Communications Manager
erin(at)krankedbikes(dot)com
krankedbikes.com/erides