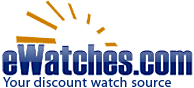 When I said before our customers go crazy for Invicta, I wasn't kidding. Some of our customers have 50 or more, just of their own!
Hollywood, FL (PRWEB) August 15, 2012
eWatches, a leading internet retailer of discount designer watches, announced today the start of a spectacular sales event on one of their most popular and most important designer watches.
The company is set to offer these authentic designer watches at prices significantly below manufacturer suggested retail price (MSRP) for three days only and expects for an strong response from its customers. "Our customers go crazy over Invicta, quite frankly," said Russell Ackner, VP of Marketing, The SWI Group. "With Invicta watches, you get phenomenal designs ranging from conservative to kind of out there," he continued.
Founded in 1837 in La Chaux-de-Fonds, Switzerland by Raphael Picard, the watch company's guiding principle and passion was to create fine Swiss watches that were also affordable. The modern-day Invicta watch company holds to the guiding principles as strictly as when the company was born—the privately owned and operated company takes a hands-on approach to every step of the production process.
The three-day Invicta sales event is across the entire Invicta watch line and marks the first time eWatches has had a sales event on Invicta watches for men and women with such daring prices, some at or below cost. "We're taking a chance here, by marking the line down so low, but we've had inquiries from a lot of our customers as to when we might have an event like this so we felt it was time to show them how much we appreciate their obsession with Invicta," said Ackner. "When I said before our customers go crazy for Invicta, I wasn't kidding. Some of our customers have 50 or more, just of their own!"
An award-winning discount designer watch website, eWatches also carries an extensive selection of watches from such reputable and popular brands as Bulova, Seiko watches, Swiss Legend, Stuhrling, Glam Rock watches and more, with thousands of styles available to its customers. The Invicta watch sales event will contain a range of styles that includes dress watches, sport watches, dive watches, fashion watches and other styles at extremely low price points.
eWatches indicated that their most popular styles of Invicta watches include the Invicta Pro Diver chronograph watch, the Invicta Angel watch for women, and the Invicta Russian diver model collection, among several others. The three day Invicta sales event begins at midnight Wednesday and runs through Friday at midnight.
About eWatches.
eWatches.com is an award-winning internet retailer of brand-name watches serving tens of thousands of satisfied customers since the company's inception in 2003. In both 2007 and 2008, Inc. Magazine selected eWatches.com as one of 'America's 500 Fastest Growing Companies' in its annual Inc. 500 list. eWatches provides a superior shopping experience to its customers with:

Free Shipping on all domestic orders
100% Satisfaction Guarantee
Low Price Guarantee
30 Day Money Back Guarantee
To get the 411 follow eWatches on Facebook and Twitter at 'ewatchescom'.